Belper's first Fashion Revolution event took place during Fashion Revolution Week 2019. The action happened in St Peter's Church on Friday April 26th,  it was very well supported by people from Belper and beyond.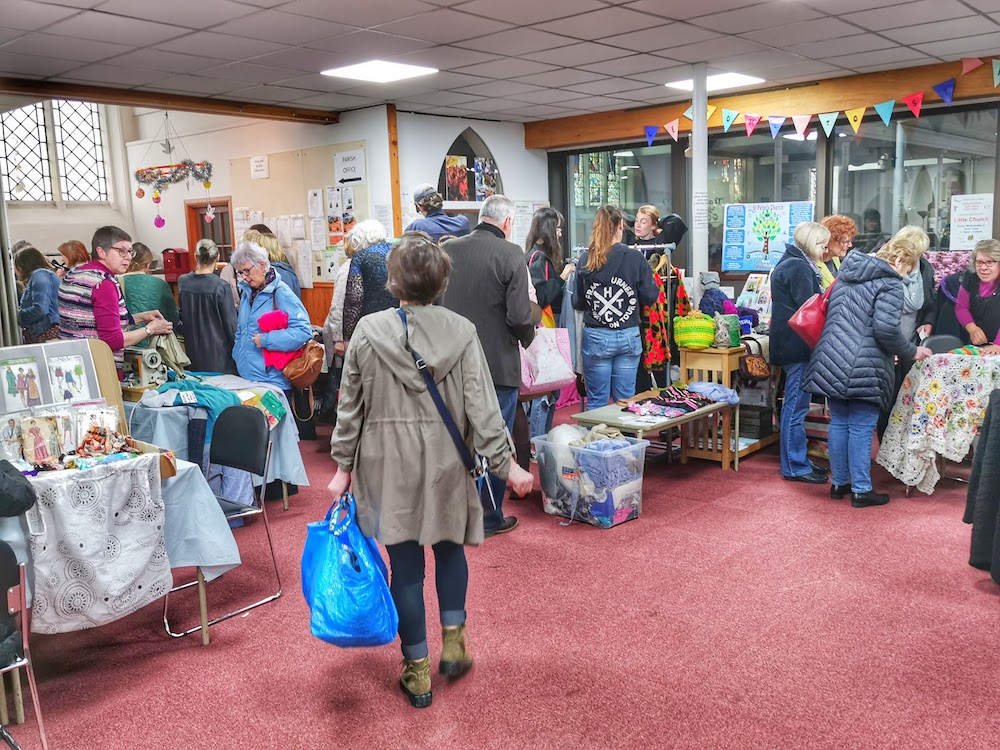 The idea for the Fashion Revolution movement came from Carry Somers after the tragedy of the Rana Plaza disaster. On 24 April 2013, a factory building in Bangladesh collapsed killing 1,134 people and injuring 2500 more. Carry (who has a Fair Trade shop in Ashbourne) felt this was a tipping point and something needed to be done. She phoned Orsola de Castro, founder of up-cycling fashion label 'From Somewhere'. Orsola immediately said, 'Yes we have got to do this." The first fashion Revolution Day took place in 2014. Fashion Revolution Day has now become Fashion Revolution Week and this year took place from April 22 – 28.
It was encouraging to have at the event a young fashion designer from Derby, Leren Connor. Her company Bambis Den is an eclectic mix of forgotten treasures, festival attire, alternative clothing and accessories. Leren is an advocate for sustainable fashion, she sources charity shops and car boots for the best denim and materials to use in her collections and gives them a new lease of life.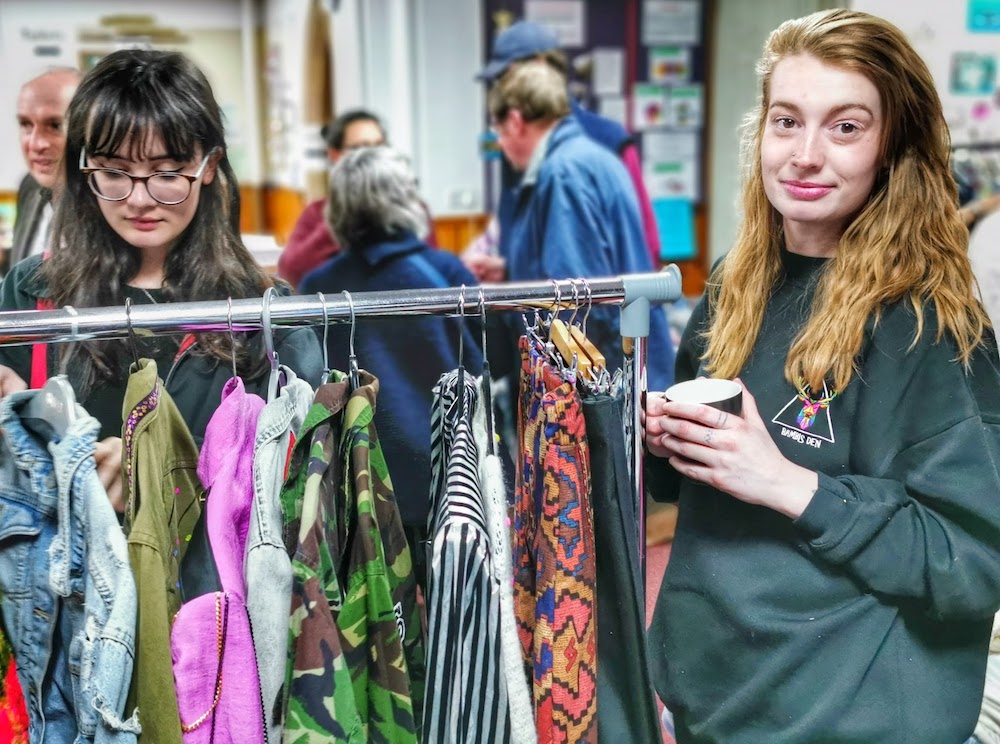 A clothes swap was organised by Shena Lawrence and her team. Shena runs a monthly clothes swap at Creartii Belper and the next one will be on May 22nd 2019 from 7.00-9.00pm. More details can be found at the bottom of this blog.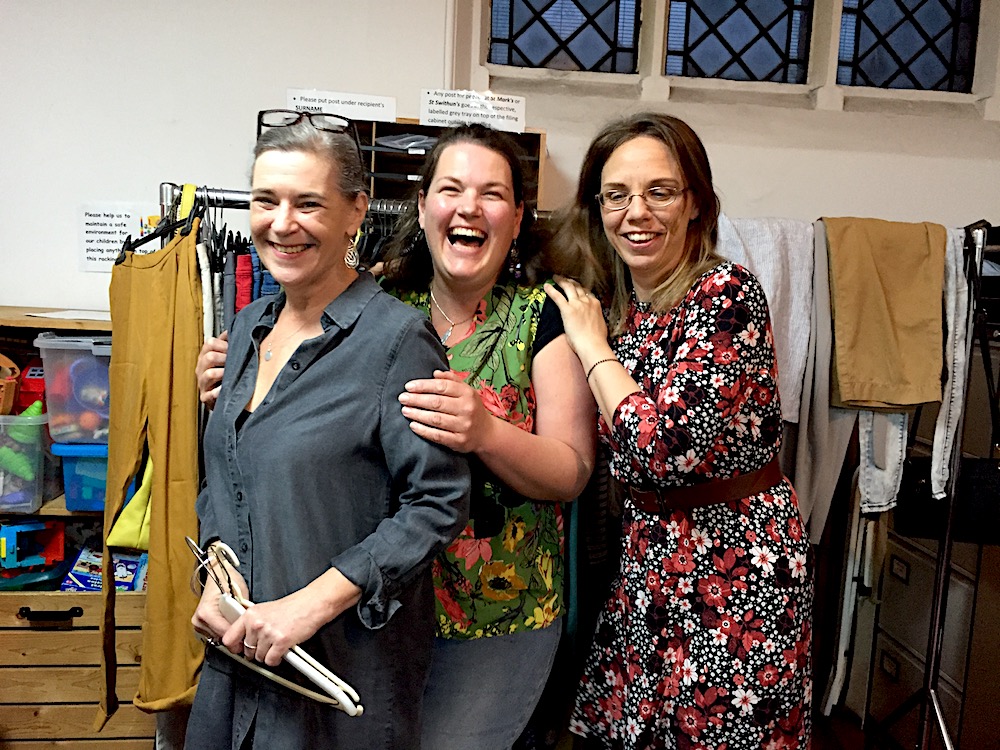 There was a Fabric Swap for all those who enjoy making or mending.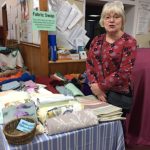 Bryony Roberts travelled  from the South West to lead a craft activist activity. Craft activism is slow activism which helps people to think about important issues while making something. In 2014 I started an ongoing banner about why things need to change in the fashion industry. The idea was that people thought about the issues and wrote or sewed something onto a fabric post it note. Last Friday more post it notes were embroidered and added to the banner.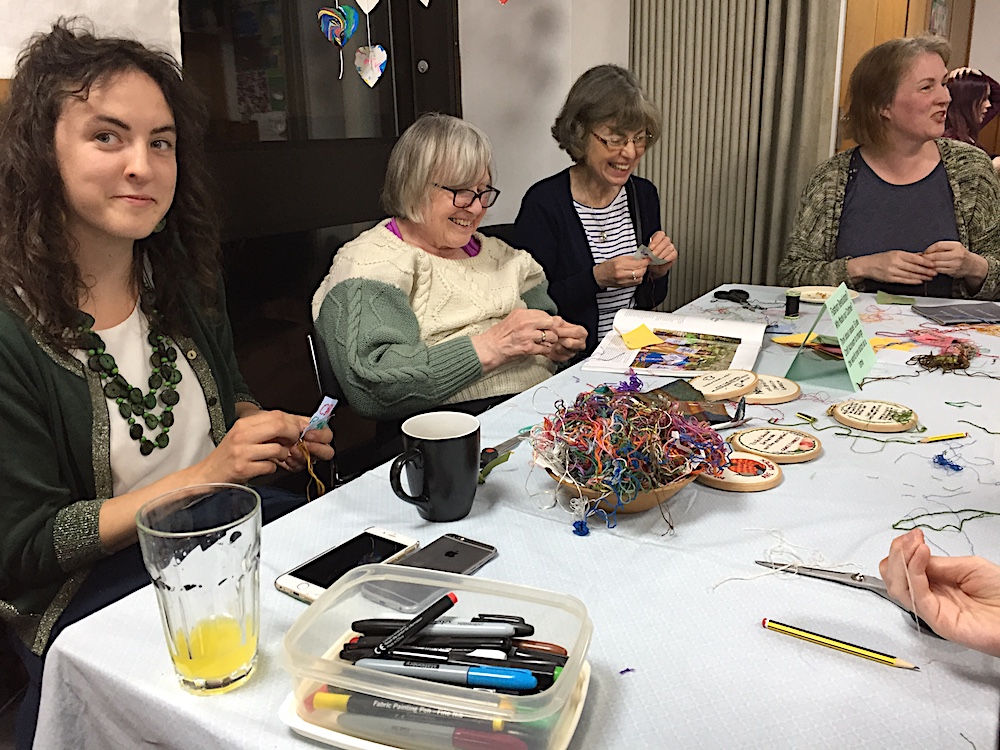 One of todays trends, currently referred to as Fast Fashion, is to wear clothing and then discard, either because it is cheap or you can easily buy something new because it gets damaged in some way. Two local ladies brought along their sewing machines. Marilyn's was from the 1930s and she had information about making your own clothes. Pam's was more modern and she was able to help with repairs and showed examples of how garments could be mended or altered to make something new.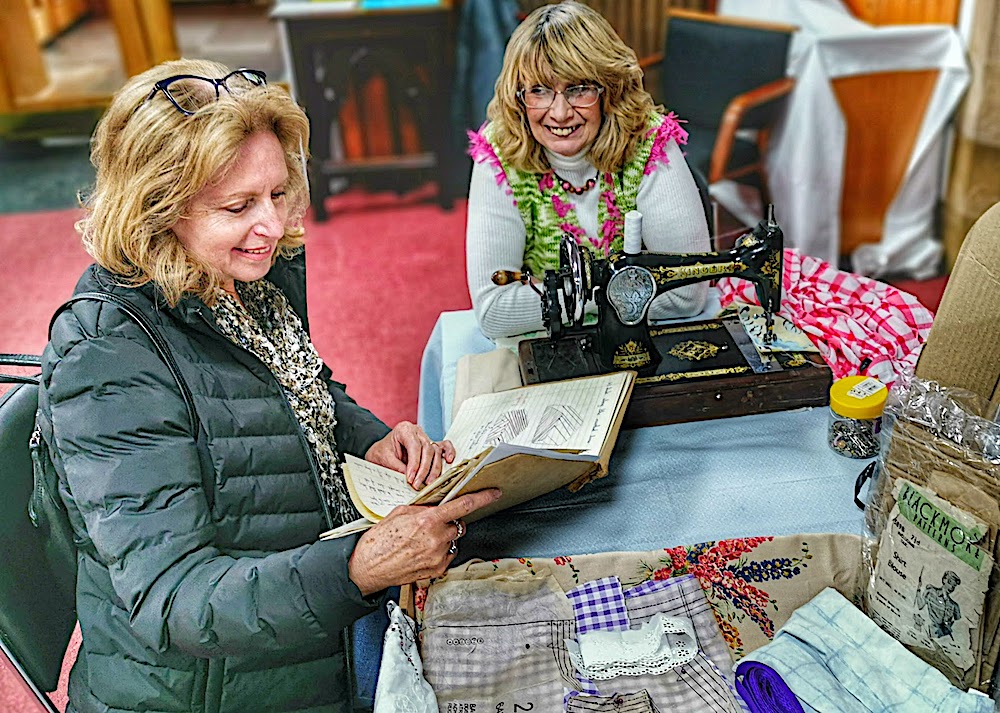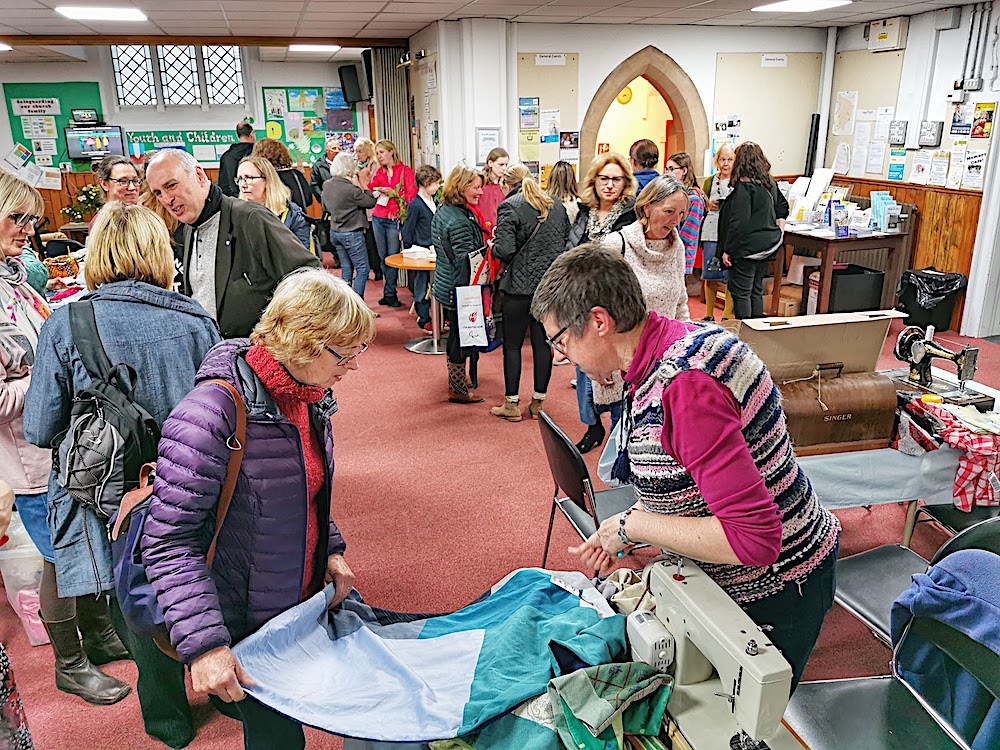 There were two workshop tables where those who attended could have a go at altering or creating something new from something old. Sue MacFarlane (owner of Sues Sustainables, a shop that sells sustainable options for your everyday needs) turned mens shirts into bags.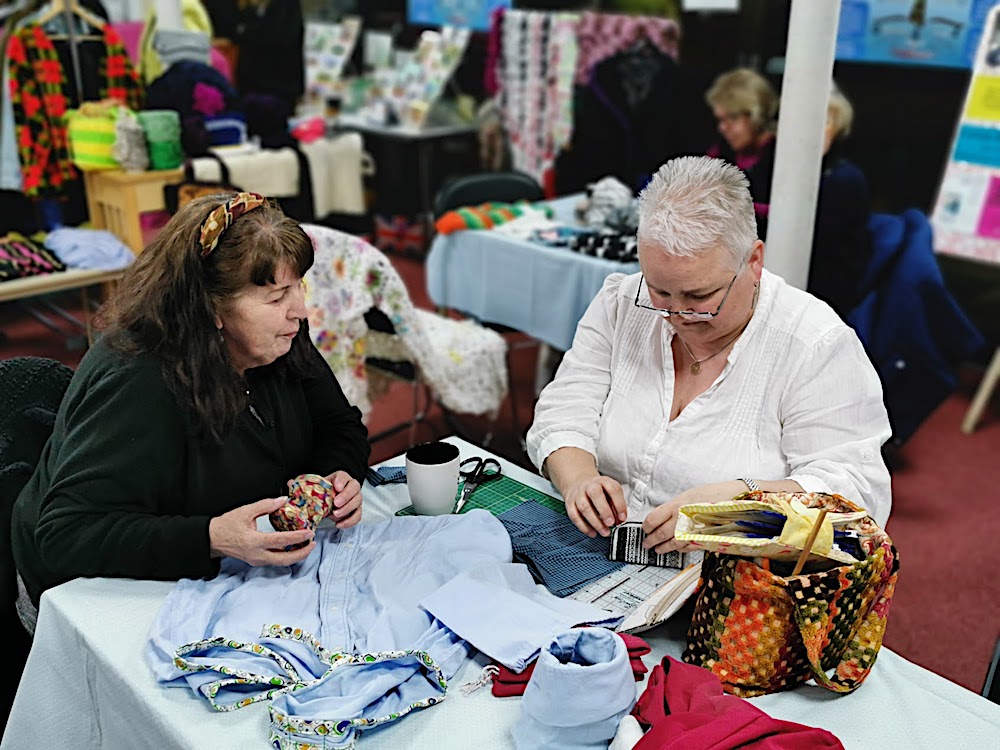 Kim Kerry (who has a monthly stall on Belper Farmer's market, selling wool and wool related items) brought along yarn and crochet hooks to give people a go and show how crochet can used to alter or mend clothing.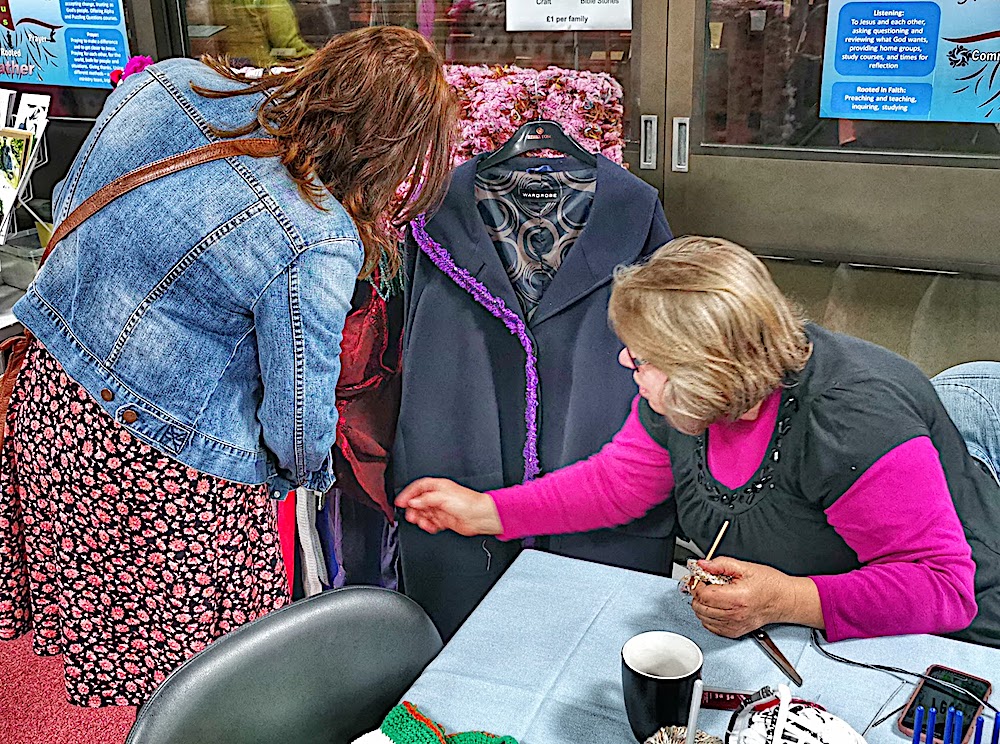 There was space to have your photo taken holding a card which asked, Who Made My Clothes? The idea behind this is that you contact the brand who made the item and ask them if they know who made it, encouraging transparency in the Fashion Industry.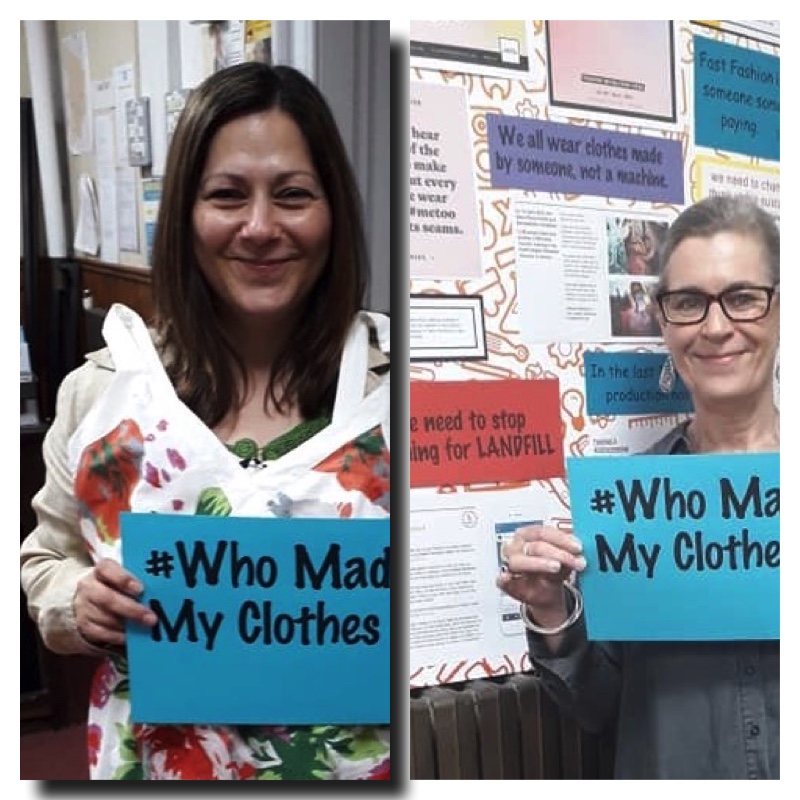 And of course there was a cafe area with homemade cake and biscuits.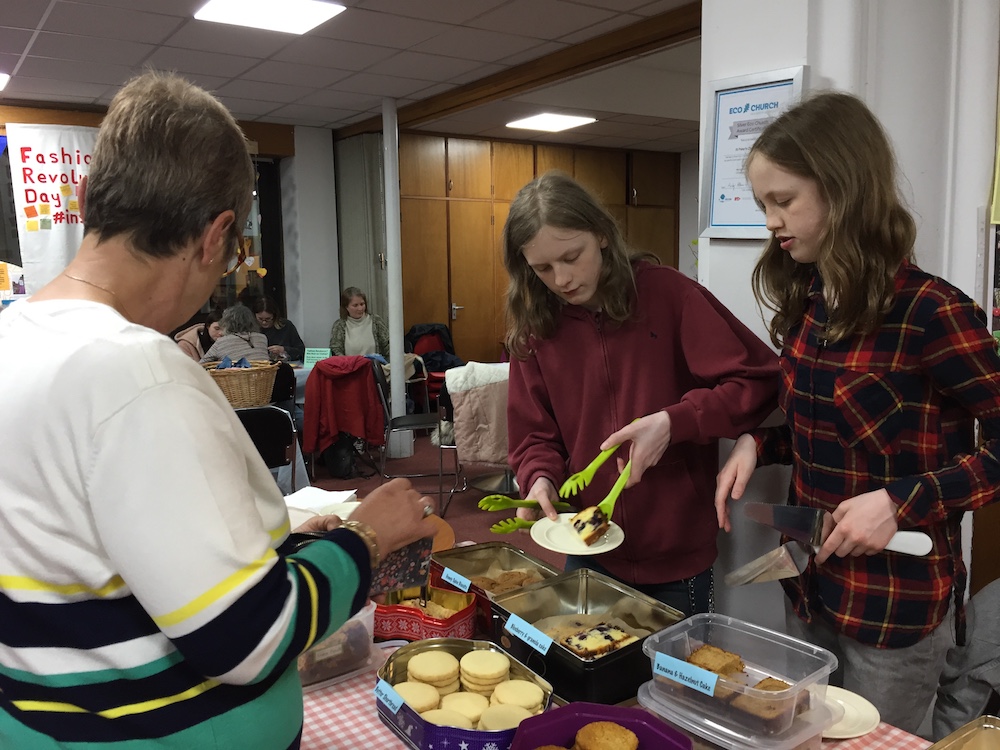 For your information shown below are details about an event organised by Shena Lawrence at Creatii Art Studio.