I remember the Monty Python sketch, 'Number 1 The Larch', about identifying trees from a distance. However the larch is not a tree I am very familiar with. The European larch is native to the mountains of Central Europe and was introduced into the UK in the early 17th century for timber plantations. It is a unique tree as it is the only deciduous conifer.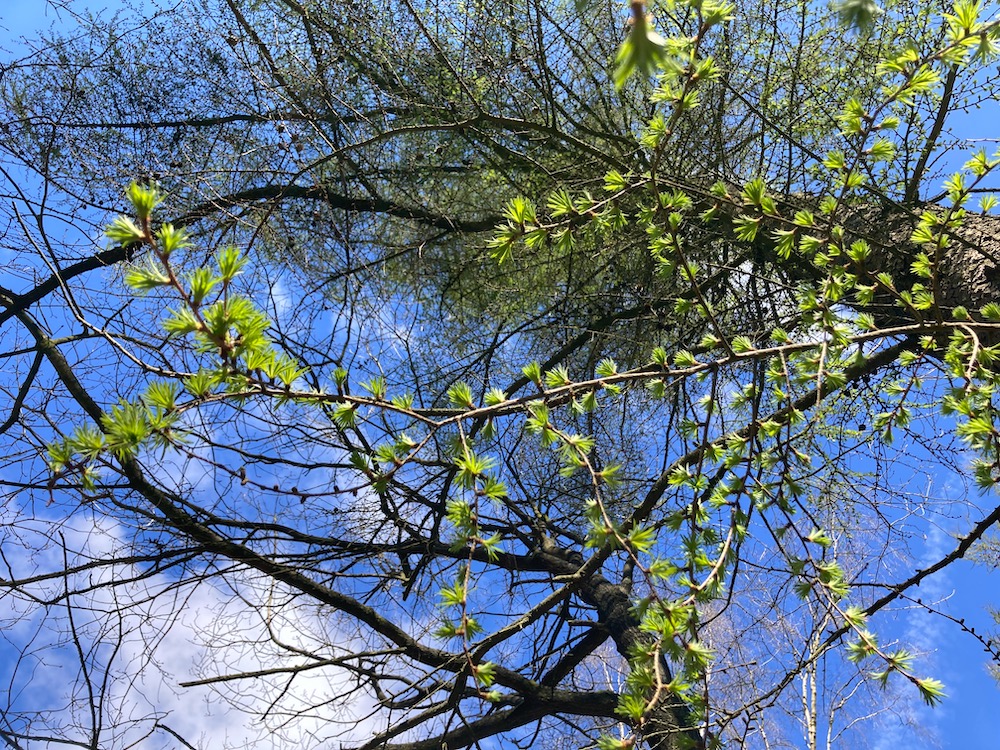 I have not taken much notice of the larch, (apart from the Monty Python sketch) but a new interest in making natural teas alerted me to the fact that you can use larch flowers and the needles for tea making. I hadn't realised that the tree had such pretty pink/red flowers which eventually turn into the small larch cones. It is spring so I went on a hunt to find a larch tree with flowers.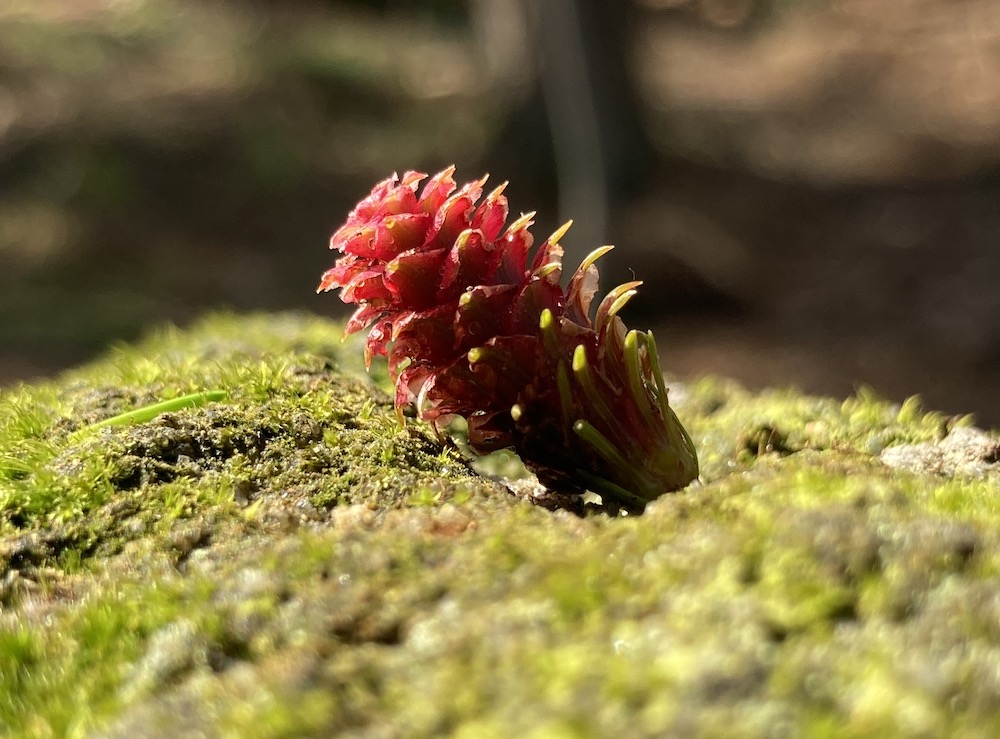 The sad news is that many larch trees are dying from Sudden Larch Death. This disease causes the rapid decline and death of larch trees of all ages. Stem cankers, needle lesions and canopy dieback are all symptoms of Sudden Larch Death in the UK.
Today I searched in a local wood, hoping that if I found a larch, it would be well and healthy. I found a lot of trees but they did not look well to my untrained eyes. The tops of the trees had green leaves coming out but the lower branches had no green or flowers. Many had already been felled and this made me wonder if there is a problem. The colour of the wood was beautiful and I wondered what it is used to make.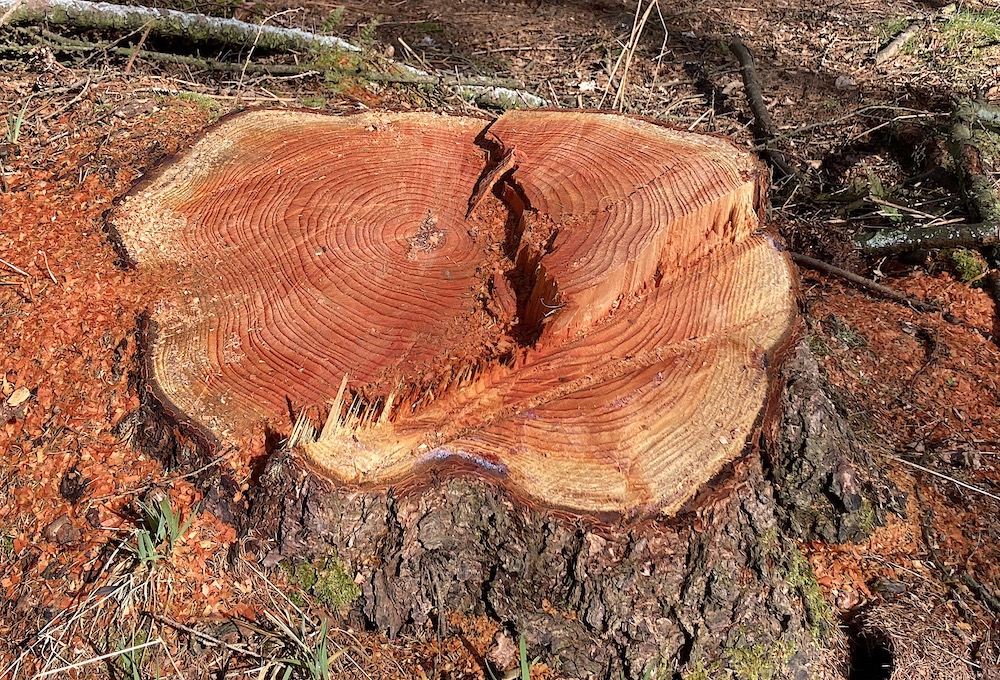 Information found on the internet www.timberblogger.com/larch-wood/ says Larch wood is known to have tough, waterproof, and durable qualities. It is mostly used for boats, gazebos, floors, fencing, etc.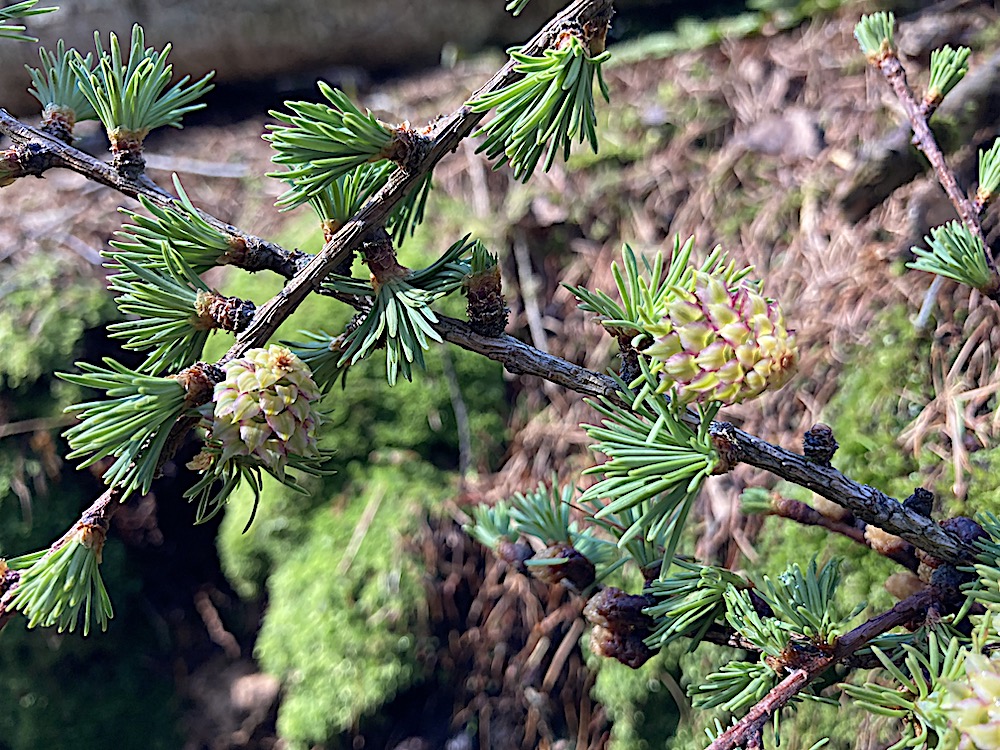 Having discovered the beauty and usefulness of the larch, I do hope it survives in the local woods and one day I can find enough flowers to try making tea. Larch trees like to grow in any wet, peat-rich soil. The right soil acidity —neutral to acidic—is also key. Larch trees do not grow well in soils with high pH. The area I discovered was wet with a lovely stream and I was glad that I wore my welly boots. I am now considering what I can look for next to make some natural tea.