I recently installed a mini beast hunt at Ripley Market Place in Derbyshire. I have organised and been involved with a number of Yarn Bombing installations since 2012. My most recent request was to do something for an event called AmberFest for Amber Valley Borough Council. The council were planning a new Community Showcase to be held in Ripley Market Place on Saturday 18th July 2015.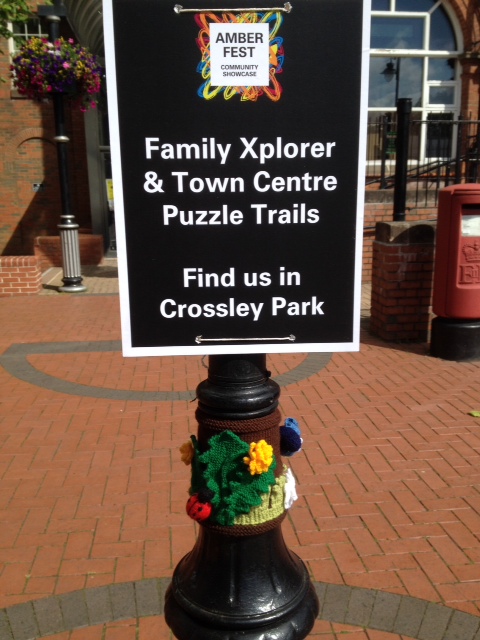 "Members of the public were offered the opportunity to take time out from their weekend shopping to speak to officers from Amber Valley Borough Council about their services and chat about areas of concern with organisations working to improve the Borough."
The council asked if I could decorate stalls and some of the lamp posts and bollards around the Market Place. I was able to use a lot of the pieces already made for the Woollen Woods. I recon that ideally at least four months notice is needed before a planned Yarn Bomb. On this occasion there was only six weeks!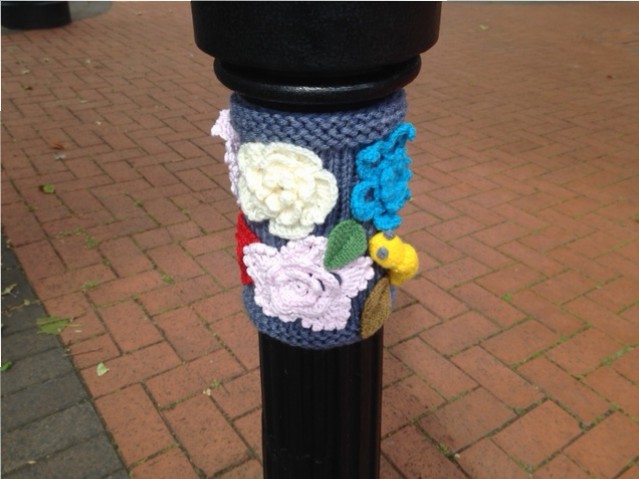 I always find Yarn Bombing easier if I can have a theme for the installation. The idea this time was to make the market a place for a mini beast hunt.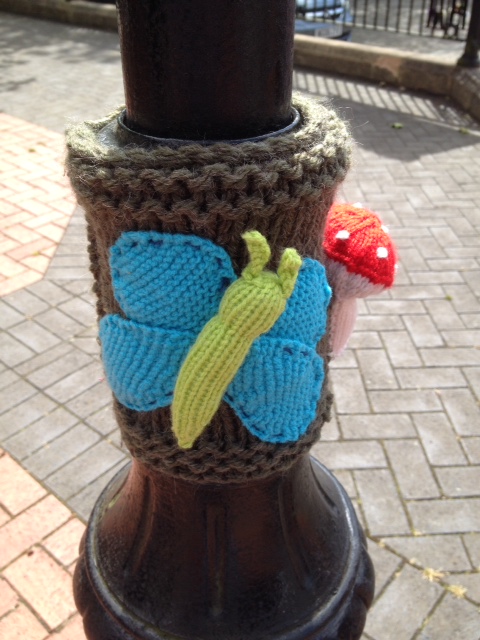 There were lots of black bollards around the market. I wanted to make covers for some of these. I started by measuring a bollard and then making a cardboard one at home. This allowed me  to work out the pattern. It did prove very useful. I didn't want the covers to go right to the ground, to keep them safe from dogs!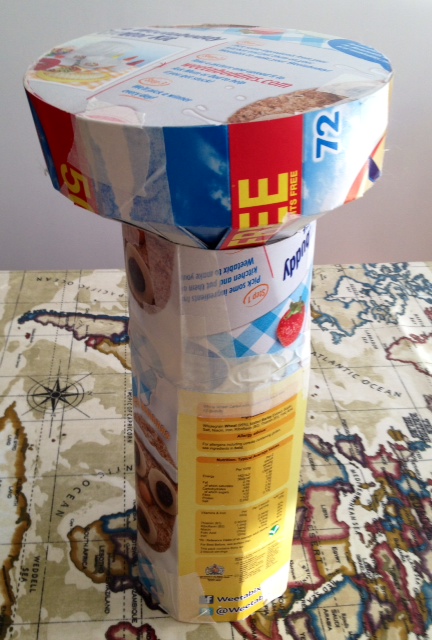 I managed to knit ten covers in the time available and here are some photos of a few of them.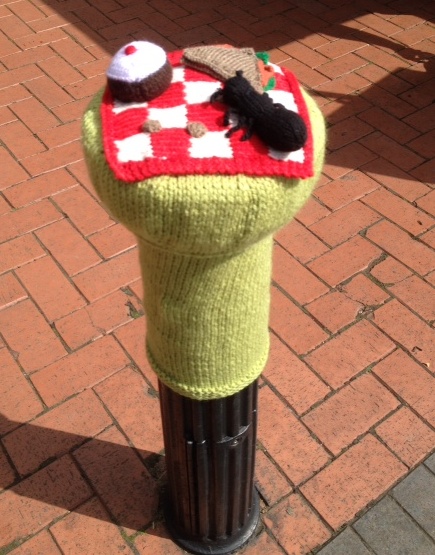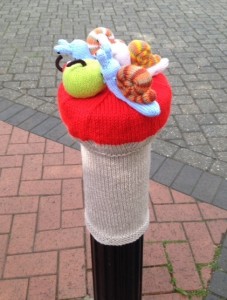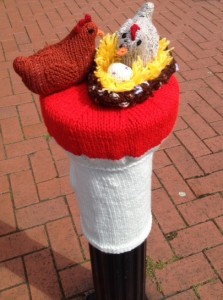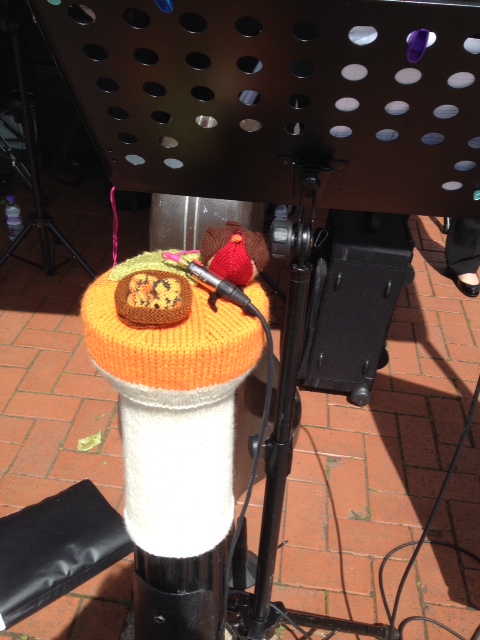 I knitted a couple of large sunflowers which looked good on the lamp posts at the entrance of the Market Place.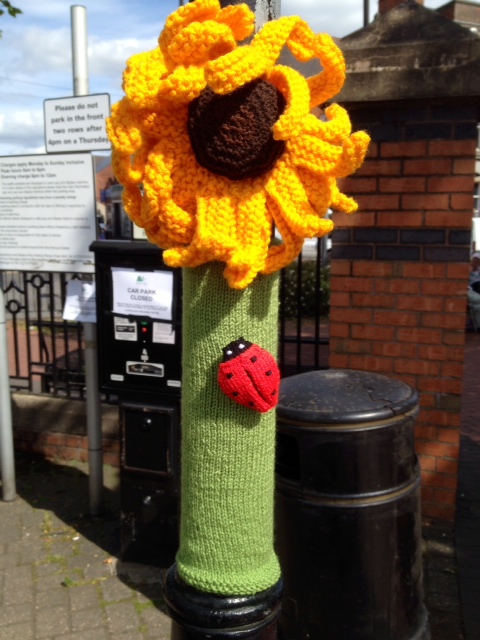 Arranging the mini beasts on market stalls proved to be more difficult than I thought. However children were able to hunt for spiders, flies, bees, ants, dragonflies, ladybirds, caterpillars, butterflies and snails. It turned out to be a very successful mini beast hunt. On the day there were also quite a number of small woolly mice running up and down the stalls.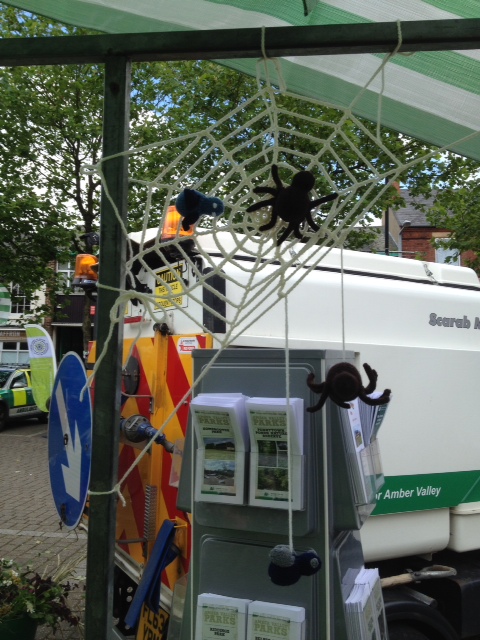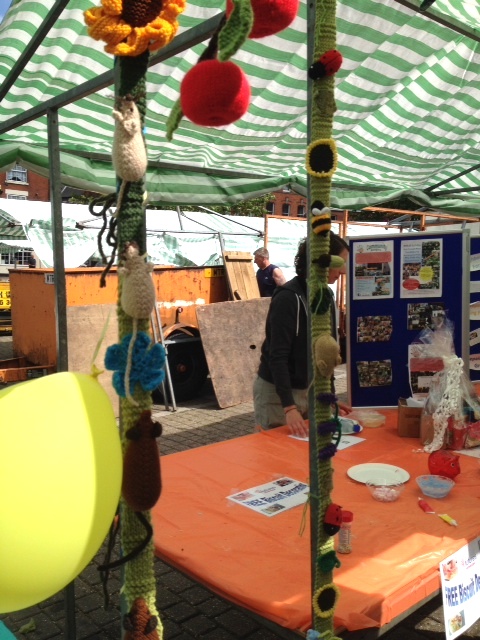 Mini beast like flowers and so I made sure there were plenty of pretty flowers and fruit for them to hide amongst.