Last Wednesday I spent a couple of hours sitting in Pachacuti , a Fair Trade shop in Ashbourne, Derbyshire. I had not gone there to buy anything although I was very tempted. On a previous visit I had left with three hats, two tops and a pair of shoes! Here is a photo of the shop and you can see my little suitcase outside!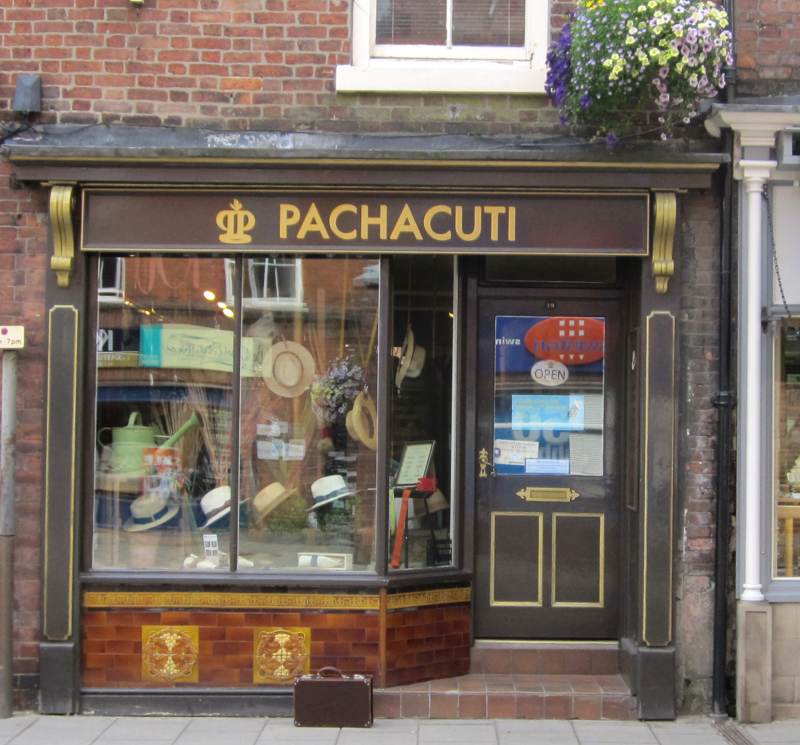 Pachacuti Shop in Ashbourne Derbyshire.
The reason for me being there was to sew a Mini Fashion Protest banner in support of theCraftivist Collective and War on Want's, 'Love Fashion, Hate Sweatshops', campaign. The reason I chose Pachacuti was because it became the first company in the world to be able to put 'Certified Fair Trade' on all of its product range. The business was started by Carry Somers and her story can be found here on the website www.panamas.co.uk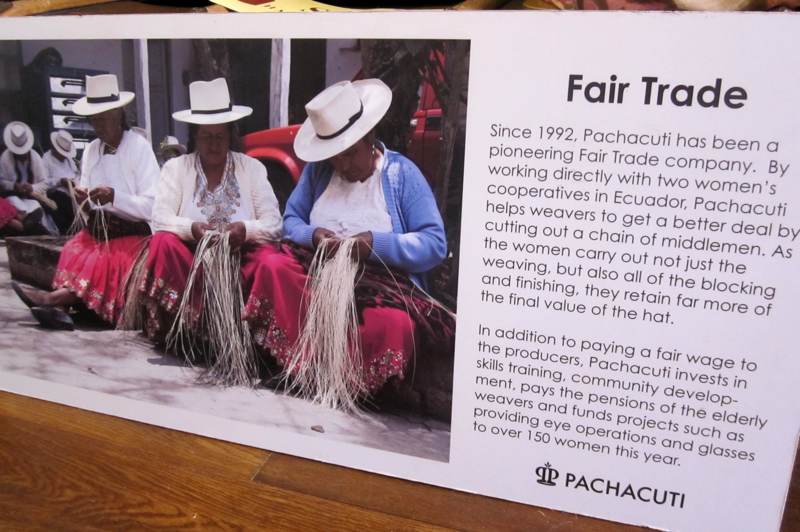 Poster displayed in Pachacuti shop.
Carry along with Orsola de Castro are also organising Fashion Revolution Day on 24th April 2014 one year on from the Rana Plaza catastrophe. The idea is that it will become an annual Fashion Revolution Day and they have taken their inspiration from International Women's day. They want to celebrate good practice, raise awareness of key issues and continue to campaign for change. Details of what is going on can be found here www.fashionrevolution.org
Anyway back to Wednesday August 21st, I had arranged with Carry that I could spend some time in her lovely shop to complete my Mini Fashion Protest banner and then leave it there on display. Hats were moved aside and I was given space to work.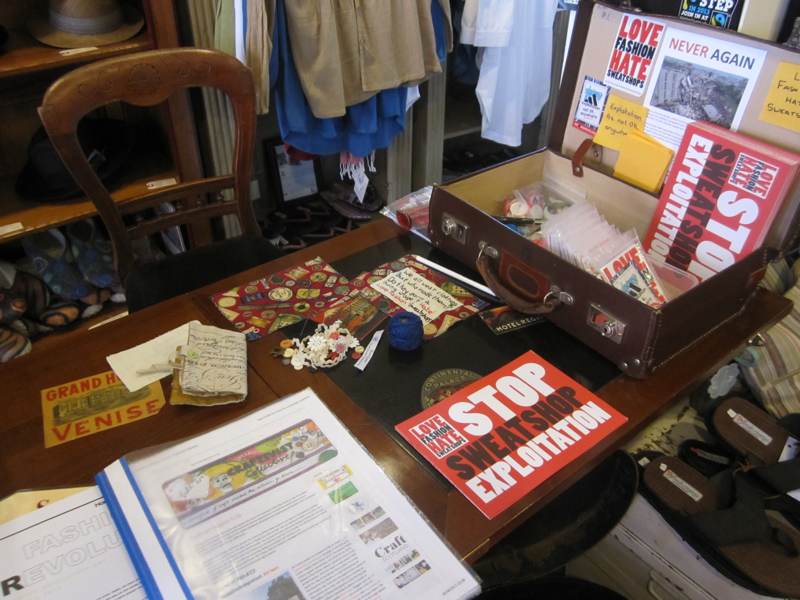 Space to make my banner in Pachacuti.
The idea for the Mini Fashion Protest banners had come from Sarah Corbett of the Craftivist-collective. Kits to make your own banner can be bought from their Etsy Shop these include everything you need with very clear instructions. Once your banner is made you need to think of somewhere to attach it and then take a photograph. The patchwork of photographs will be displayed at the Knitting and Stitching Show's Upcycling Academy in London in Autumn 2013 but only if we all help by taking part and sending in our photographs!
I have to admit that I had already started my banner before I arrived at Pachacuti as I am not the fastest stitcher and didn't think it would be finished in time. I was right but because of the head start I had given myself it was completed, displayed and photographed.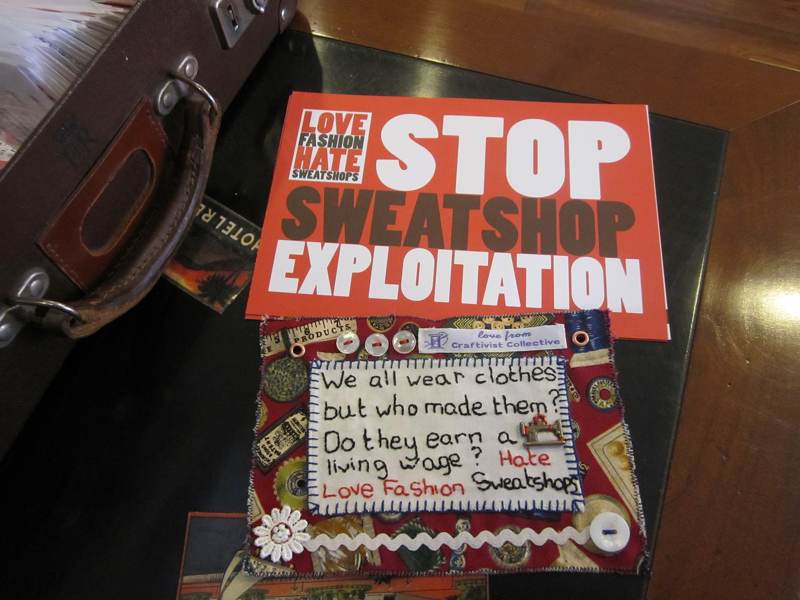 Completed Mini Fashion Protest banner.
The staff helped me to decide where to hang my banner. It was finally attached to a rail in the shop up above some of their hats and left there for customers to read.
Finished Mini protest banner among the hat in pachacuti.
I enjoyed my afternoon of peaceful sewing, thinking and talking about the issues of fashion worker's conditions and fair pay. I didn't however get away completely without buying something as I cannot resist ribbon or buttons!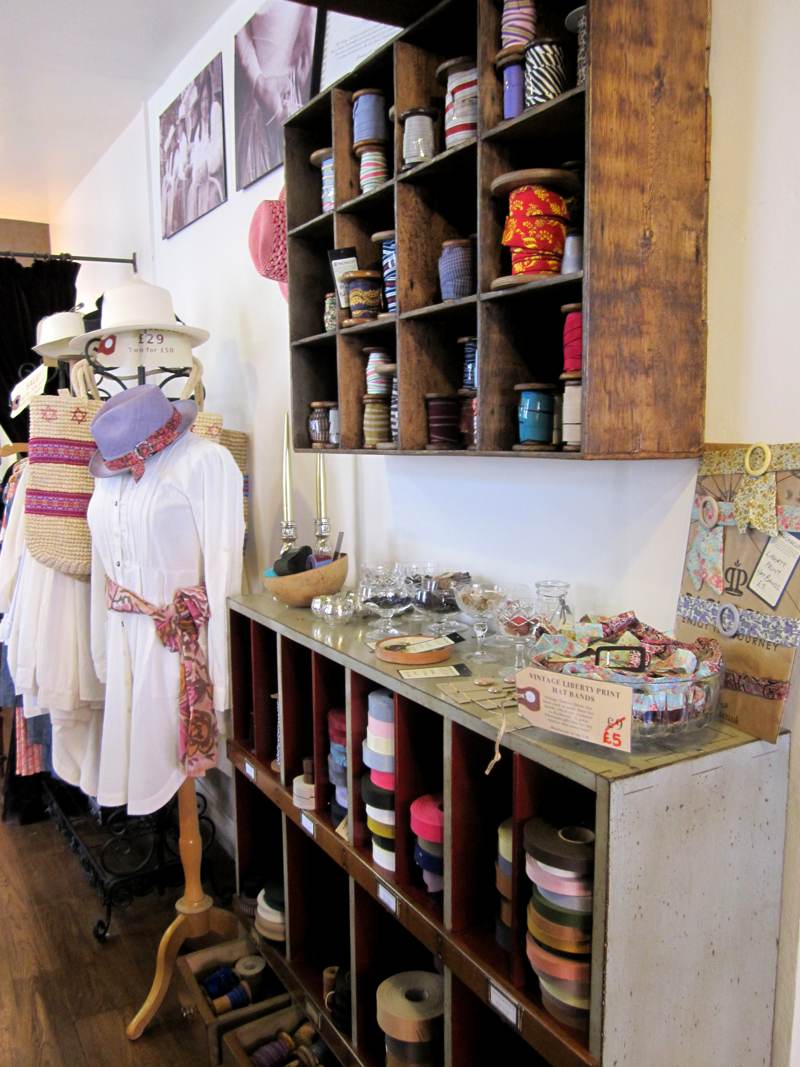 Inside Pachacuti.
Since that afternoon I have completed a second banner and placed this outside a large Mill shop In Derbyshire.
Second Mini Fashion Protest Banner.
I also have plans to be part of the first Derby, Peace and Justice Festival that takes place on Saturday September 14th. I will be at the WEA in The Mill, Lodge Lane, Derby with a display of some of the imapiece jigsaw pieces and an activity to join in with, as part of the Love Fashion Hate Sweatshops campaign. I would love people to come to see the work already done and to be part of this effort. Please contact me if you would like any more details anne@angeleden.co.uk