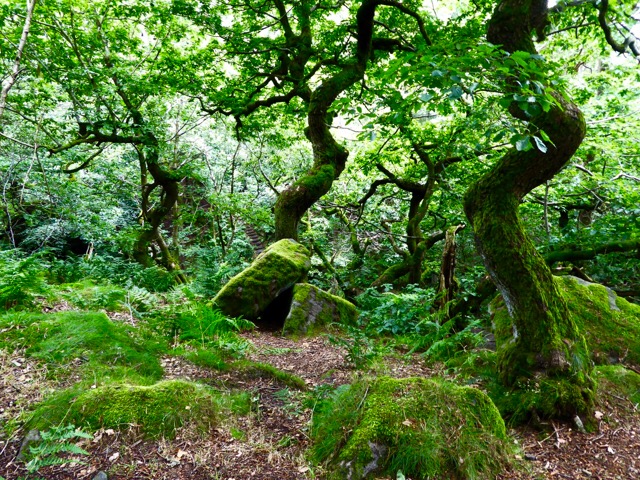 Padley Gorge is a fantastic almost magical place to visit. It is easy to access from Grindleford Railway Station. You can still get to this Station by train but it is much easier if travelling from Sheffield or Manchester. The train in the photo is going into Totley Tunnel which has a date above the entrance of 1883. It was the longest Railway tunnel in the U.K. up until 1985.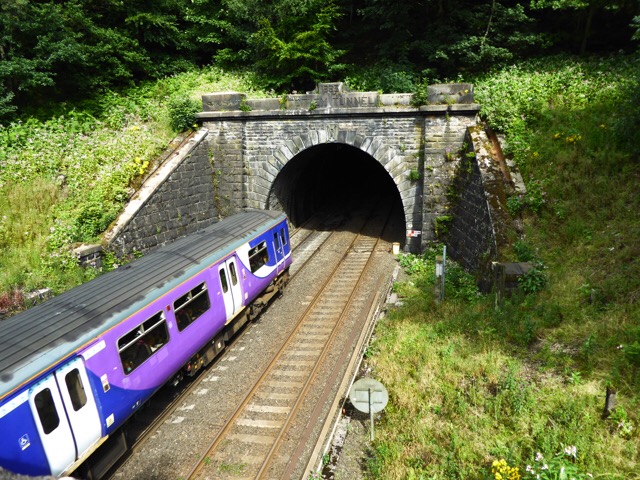 Unfortunately it's not so easy by train from Belper as you need to go to Derby, change to a Sheffield train and then change again for Grindleford. Consequently we travelled by car and luckily found there was plenty of parking on the road down to Grindleford Station. The old station building has been converted into a cafe which came third in the Guardian newspapers list of ten best Station cafes. The food is all homecooked and tea comes in half pints or pints.
Padley Gorge is a narrow valley in the Derbyshire Peak District. It is a wooded gorge with a stream, (the Burbank Brook) at the bottom of the valley. The brook used to be the boundry between Derbyshire and Yorkshire but this has now moved to the Hathersage Road. From the Grindleford Station Cafe you can walk along either side of the Gorge. We crossed the stream and walked up a road towards Upper Padley and then walked through a gate continuing along a path going up between the trees, keeping the tumbling stream on our right side.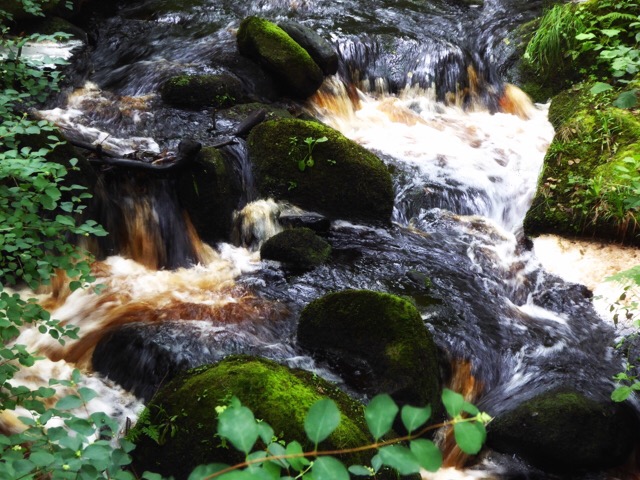 There were some places where narrow paths lead down towards the water but you do need proper walking boots and possibly a stick to navigate these. It is a very magical feeling with ancient trees and moss covered rocks.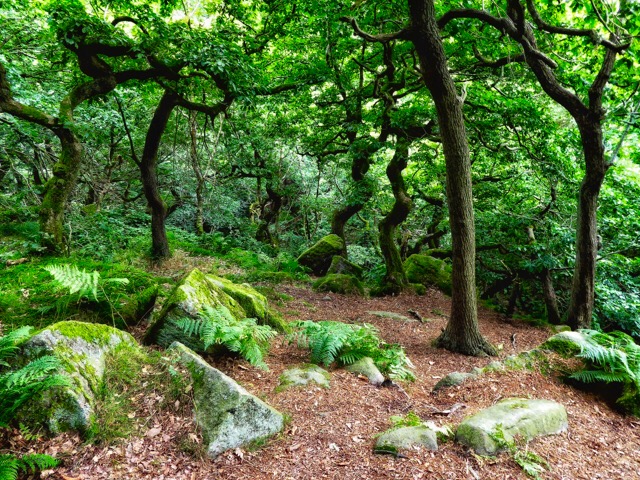 When we arrived, there were lots of cars parked along the road leading to the station, consequently lots of walkers and dogs, however there are so many paths to follow you don't feel crowded.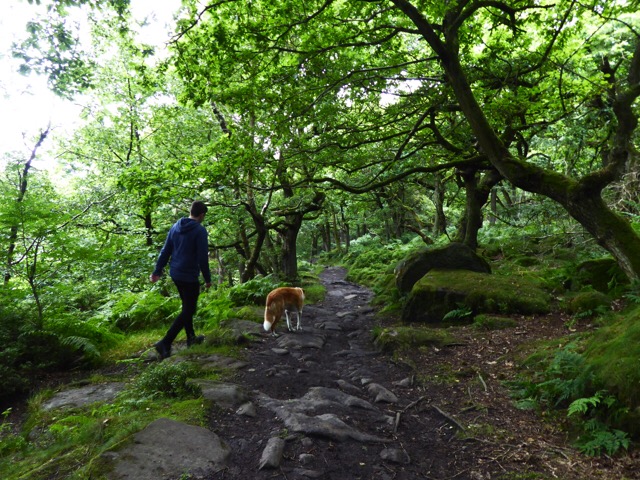 We discovered an old building in the woods which I have subsequently found out was once a gunpowder store for Bole Hill Quarry. Occasionally you come across steps leading down to the stream edge. We did venture halfway down and have a rest for a while on a stone bench.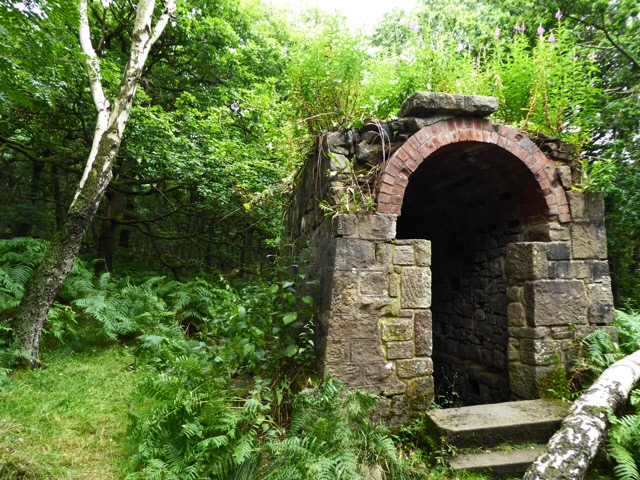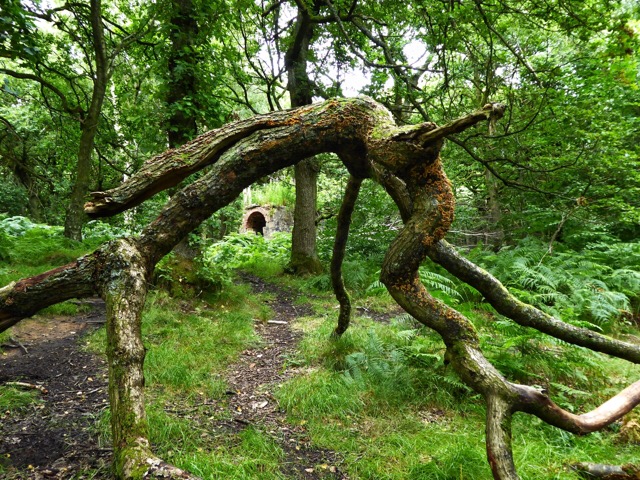 There is a circular walk that takes about two hours from the Longshaw Estate which looks most interesting and it means that you can stop for refreshments at the Grindleford Station Cafe about halfway round.  Padley Gorge Walk. Talking of the cafe, we had a late lunch there after our walk. We both had a plate of bacon, egg and beans with a large portion of chips to share and half a pint of tea. There was so much food, I ended up taking some home to eat later.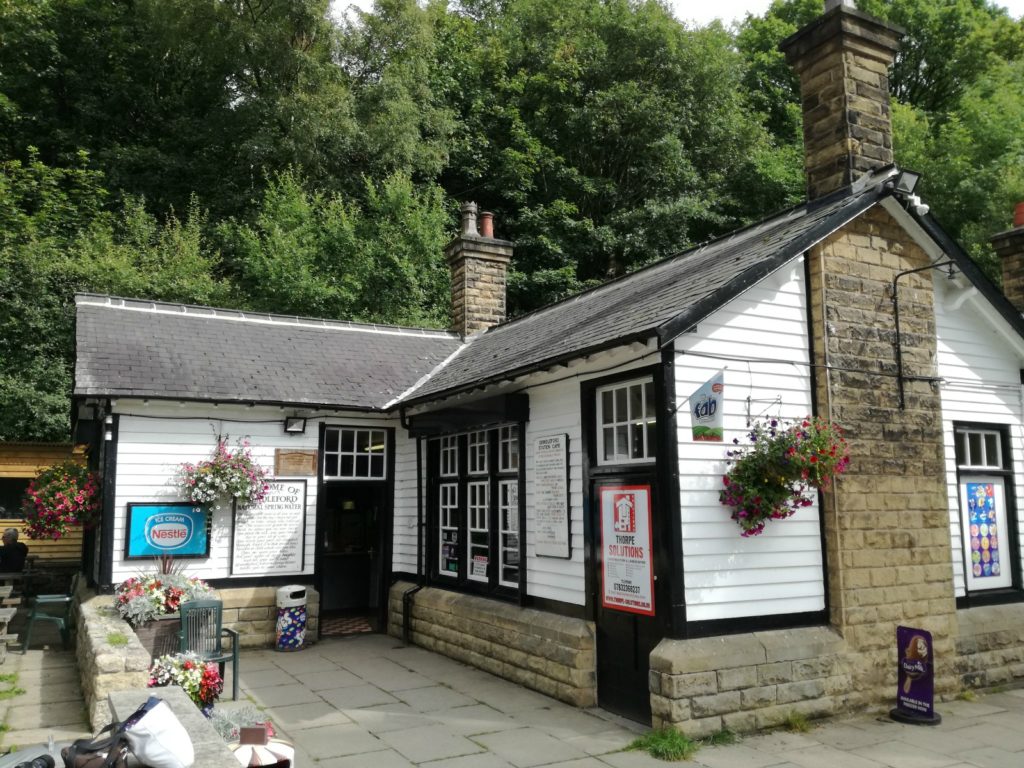 I can recommend Padley Gorge as a lovely place to go for a walk and I intend to go back in the Autumn. I have seen some beautiful photographs showing the trees in their Autumn colours and look forward to seeing this for myself.