Do you believe that climate change is happening? Are you worried about the amount of Co2 in the atmosphere and the air quality in towns and cities around the world? What about the damage that plastics are doing to our world. It can be very easy to feel that there is nothing we can do, the problems are too large and so it is easier to bury our heads in the sand.
There are things we can do and we can change but first we need to understand  the problem.  Last Saturday September 23rd, Amy and Ella came to Belper to talk about their campaign Kids Against Plastic. We also heard form Sue Macfarlane, a local Green party member who is passionate about this issue. Both talks were informative and inspiring and as a family we are more aware of single use plastic and things we can do to limit the plastic in our lives.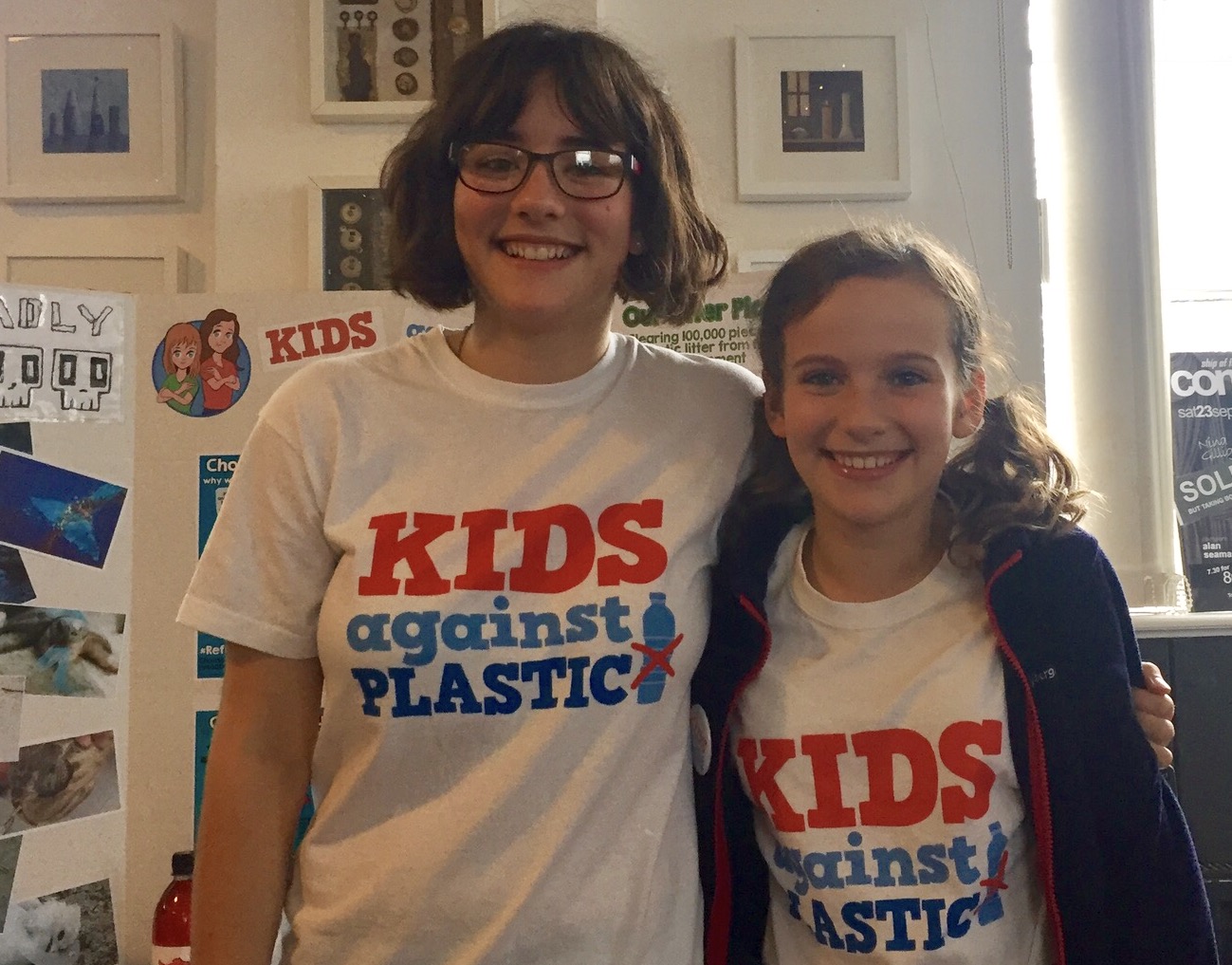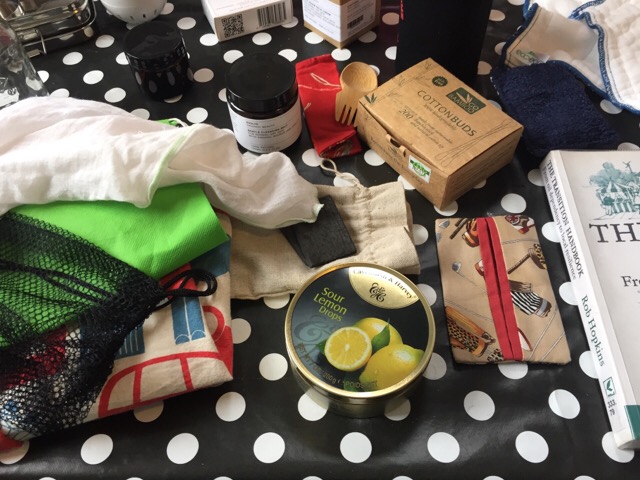 There are so many issues and which one to concentrate on? I was very lucky to see the film 'Tomorrow' which is a 2015 French documentary film directed by Cyril Dion and Melanie Laurent. Parts of the film are subtitled but much of it is in English. This film has the distinction of not giving in to catastrophism but optimistically travels to ten countries and gives us examples  of local communities working together to find solutions to environmental and social challenges of the twenty-first century.
There is to be a free showing of the film in Belper on October 27th in St Peters Church, Chesterfield Road, Belper, DE56 1EZ.  Doors open at 7.00 pm for refreshments with the film starting at 7.30pm. This is a really exciting opportunity and it is thanks to Transition Belper and St Peters Parish for making it available to everyone free of charge.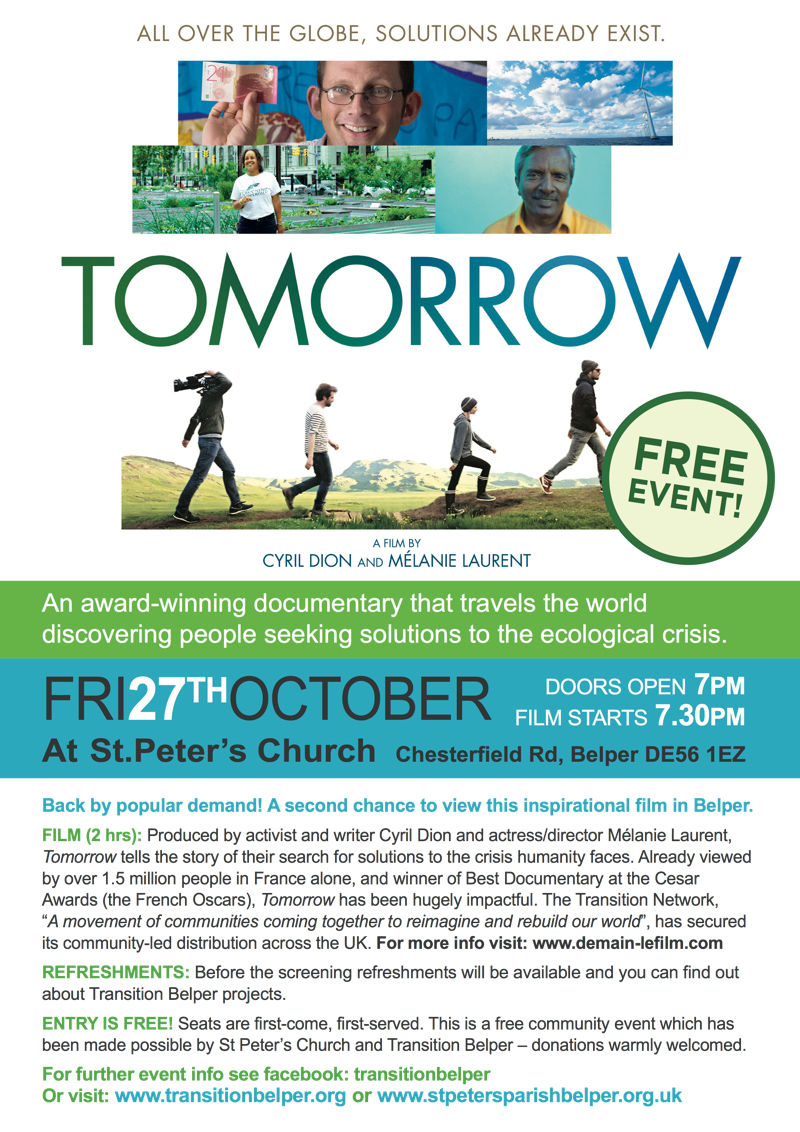 So that people can have a better idea of what to expect I have copied and pasted the words below from the films website www.demain-lefilm.com
THE STORY
Showing solutions, telling a feel-good story… this may be the best way to solve the ecological, economical and social crises that our countries are going through. After a special briefing for the journal Nature announced the possible extinction of a part of mankind before the end of the 21st century, Cyril Dion and Mélanie Laurent, together with a team of four people, carried out an investigation in ten different countries to figure out what may lead to this disaster and above all how to avoid it.
During their journey, they met the pioneers who are re-inventing agriculture, energy, economy, democracy and education. Joining those concrete and positive actions which are already working, they began to figure out what could be tomorrow's world…
You will find below some of the characters and contributors met by the DEMAIN team during its journey in 10 countries. Among those not mentioned are :
the Detroit urban farming movement ; Incredible Edible in Todmorden (GB) ; Copenhagen citizens and representatives ; Eric Scotto, Akuo Energie CEO ; Guðni Jóhannesson, general manager of the Icelandic National Energy Authority; the Bristol Pound team ; Hervé Dubois, spokesman of the WIR bank in Basel ; Michael Schuman, economist, ;members of BALLE ( Business Alliance fot Local Living Economies); people  of the Kitchenware Revolution in Iceland…
Please ask friends and family along to see the free showing of this truly inspiring film.