The first Fashion Revolution Day will happen on April 24th 2014. It will then be a year since the Rana Plaza building collapse in Bangladesh, which killed 1133 garment workers and injured over 2500 more. The idea for this day came from Carrie Somers from the Company Pachacuti in Ashbourne, Derbyshire. Carrie has written a blog which tells how she first got the idea and what the plans are for the first Fashion Revolution Day.
I have previously written about my visit to Pachacuti to make my small protest banner in support of the War on Want and Craftivist Collective initiative to highlight the Love Fashion Hate Sweatshops Campaign.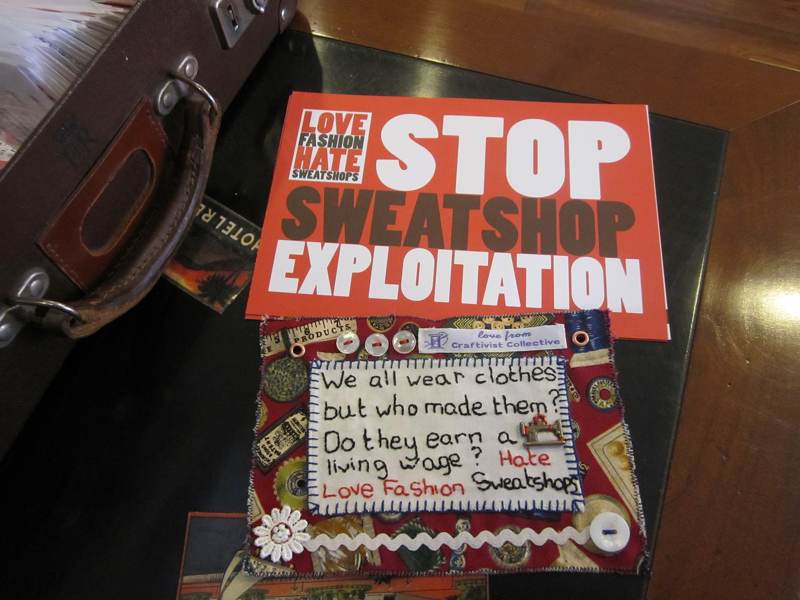 We all wear clothes and I feel it is important to start to think about the journey these items make from the farmer growing the materials to the workers in the garment factories. Here is a copy of the Fashion Revolution Day press release explaining about the day next April 24th 2014.
Fashion Revolution Day April 2014
On 24th April this year 1133 people were killed and over 2500 people were injured when the Rana Plaza factory complex collapsed in Dhaka, Bangladesh. Six months later the catastrophes in our fashion supply chain continue. (On 9th October a fire in Dhaka killed at least nine). Fashion Revolution Day says enough is enough.
Please mark 24 April 2014 in your diaries now. This is Fashion Revolution Day when industry leaders, factory workers, producers, campaigners, academics, press, consumers, cotton farmers – everyone we can think of – will come together to commemorate the first anniversary of the collapse, remember the victims of Rana Plaza and change our fashion future.
Fashion Revolution Day is an opportunity to celebrate fashion as a positive influence, raise awareness of the fashion industry's most pressing issues and show that change is possible. It will rally the high street, the high end, the innovators, the media, the public, the activists, the makers, the wearers – and everyone in between.
This year's Fashion Revolution Day will simply ask, Who Made Your Clothes? We want everybody to show their support for better connections and transparency across the fashion supply chain. And so our CALL TO ACTION on 24th April 2014 is for everyone to wear an item of clothing inside out, to take a picture and then post it, instagram, facebook and tweet it like crazy.
Founder of Fashion Revolution, Carry Somers says "Fashion Revolution Day has already gathered incredible momentum on a global scale. We have been inundated with fashion industry leaders, consumers, celebrities, media all wanting to mark the occasion and revolutionise the industry. It represents a really exciting opportunity to reconnect fashion-lovers with the people who made their clothes"
Upcycling pioneer, Orsola de Castro says "With one simple gesture, #insideout, we want you to ask: "Who Makes My Clothes?" this action will encourage people to imagine the 'thread' from the garment to the machinist that sewed it and all the way down to the farmer that grew the cotton it was made from"
"Fashion Revolution Day promises to be one of the very few truly global campaigns to emerge this century" says Baroness Young of Hornsey who set up the All-Party Parliamentary Group on Ethics and Sustainability in Fashion.
www.fashionrevolution.org    www.facebook.com/fashionrevolution.org    @Fash_Rev
I wanted to do something practical to help people think about the question of 'Who made their clothes' and so came up with the idea of making a banner. Last Sunday evening at Community Church Derby we had a creative service which was a

n opportunity to worship in creative ways with paints, craft, creative writing, needlecraft and music. As part of this I made a selection of fabric post it notes for people

to write or embroider something onto. It was a really good way to talk to others about the issues and think about the idea of wearing an item of clothing inside out on the day. Since the evening I have been tacking all the pieces onto the banner. Here is a picture of it which is currently lying on my kitchen table.
I still have plenty of the fabric post it notes left so if anyone would like to embroider one to go on the banner please contact me in the comment box below.