I love making things hence the title of my blog, Anne Clark Handmade. I also like to create small worlds using papier mache, fabric, wire and knitting. There is a lot of fun to be had experimenting with different materials. A couple of years ago I spent a day attending a Jessie Chorley workshop at Hope and Elvis in Nottinghamshire.  We were given an old cutlery box to do something with and I made it into a small room with clock, curtain and dressing table.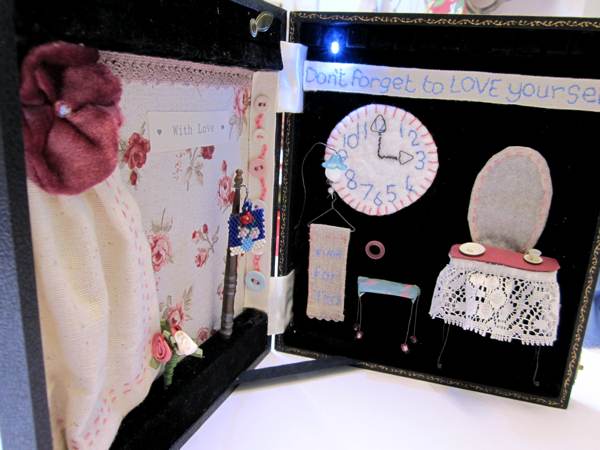 With my husband's help I added a tiny LED light with a battery box stuck to the back of the display. I then made a lady from a clothes peg and gave her a leather book and a small key. I still haven't decided whether to give her a face!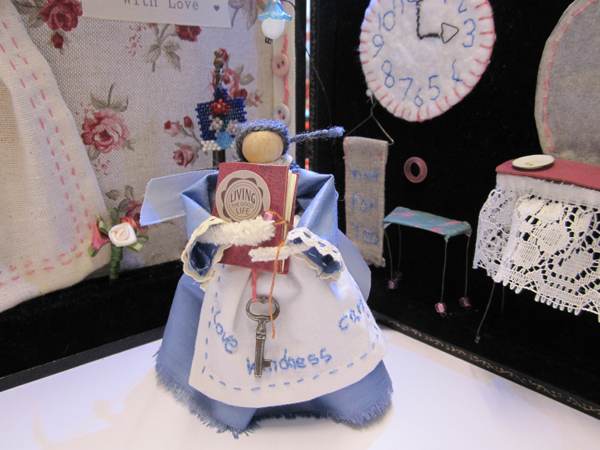 I have been experimenting, making things with papier mache and this next picture is of a house made from cereal box, masking tape, newspaper, glue and pictures cut from a book bought from an Oxfam bookshop.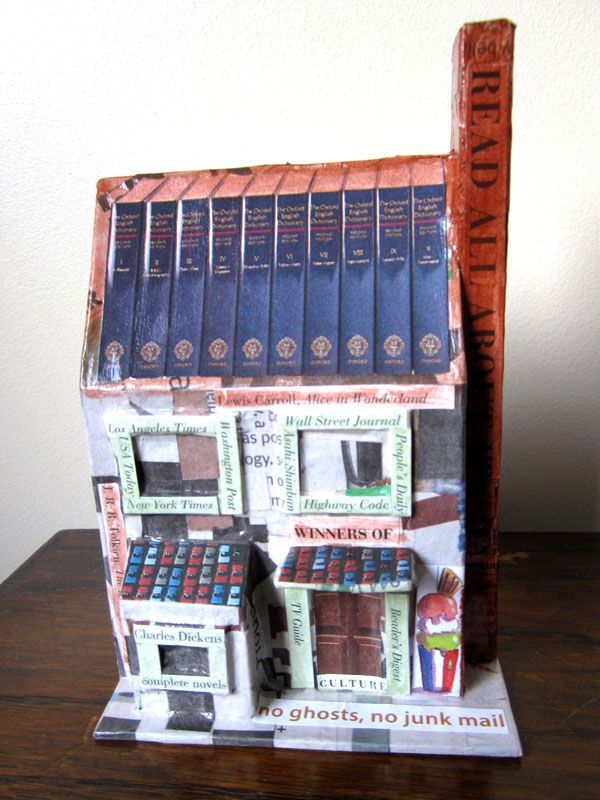 Using the same sort of construction I have made a bed and then sewn and knitted the bedding. The instructions on how to make this bed can be found on the Angeleden Blog. There are also pictures of the mouse who sleeps in the bed.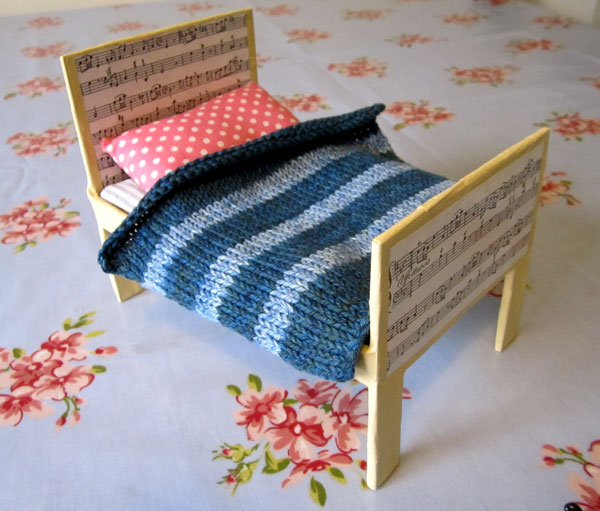 Recently I have started to collect small tins when I can find them at reasonable prices. I decided to embroider pictures inside them and the first ones illustrate proverbs and sayings. The fabric that I have used to sew things onto is 100% cashmere sourced form a British Mill that used to make cashmere coats.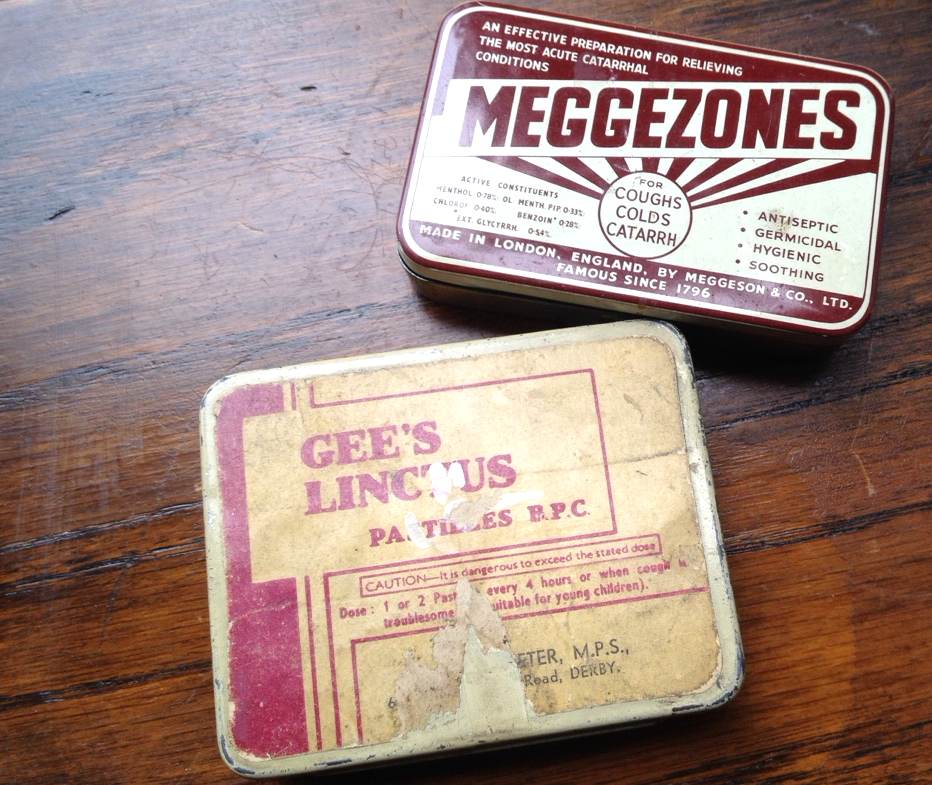 For my first creation I used the Meggezone tin and the proverb 'A stitch in time saves nine'.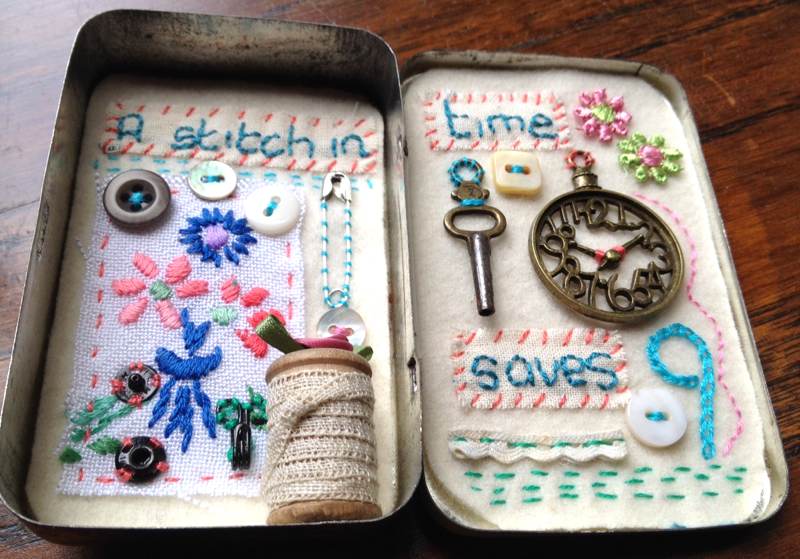 My second tin has the proverb 'A cat can look at a Queen'. I found the crown in an antique shop and it is supposed to have been made in 1953 at the time of our Queens coronation so was ideal to add to a cat charm from a Christmas cracker.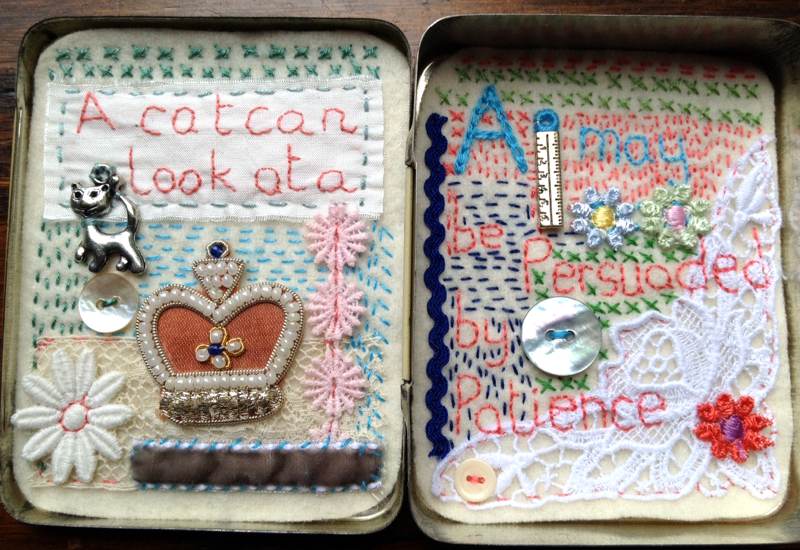 Although these tins are very tiny works of art they do take me a long time to make as I love to fill every space with embroidery. I have a small stack of tins and at the moment am working on a couple of proverbs which I will write about when finished. I am also experimenting with altering old books and automata which I will post about once I have taken pictures..