I thought I would write an update about the Christmas Angel project. Knitters and Crocheters in Belper have been very busy this year making small angels as a Christmas Gift of Love for the people of the town. The project had been adopted by Belper Churches Together as their Christmas initiative but it has also been very much a community activity with hundreds of people getting involved.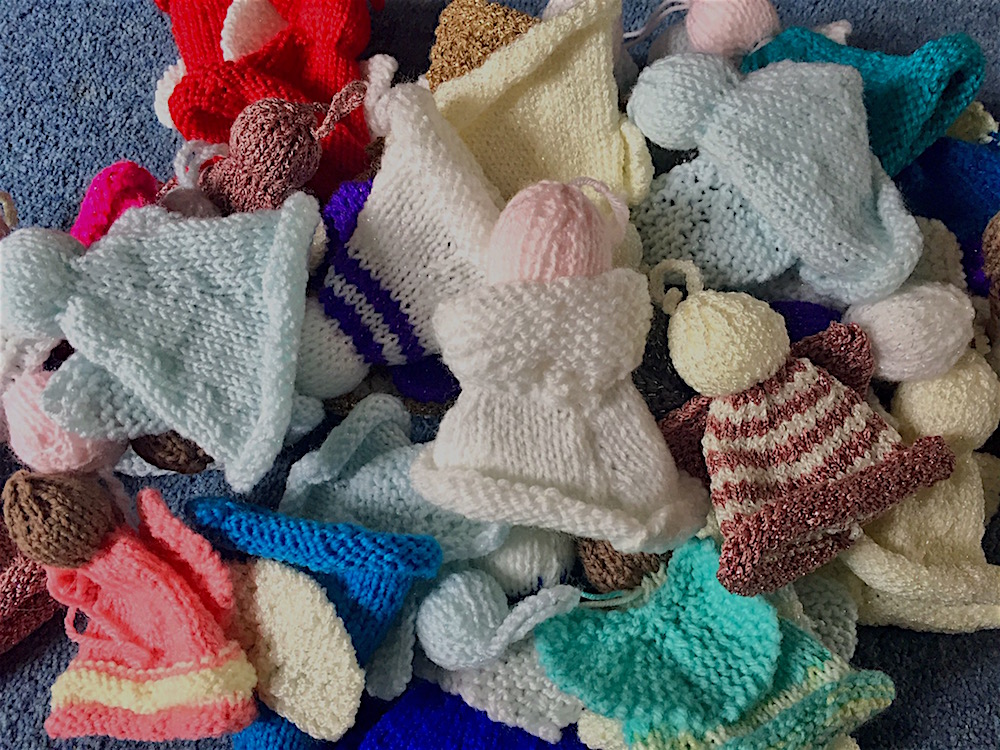 The Angels were made by local knitting/crochet groups, a 94 year old Oxfam Volunteer, a Town Clerk, residents of Spencer Grove Care Home, Church Leaders including the Vicar of St Peters, Chatterbox (a social group for adults with learning difficulties), the Blue Box Community, Photography Group enthusiasts, Open Gardens and Belper Garden Group members, Transition Belper, Church Craft Groups of all denominations, Creartii (a creative Art Centre in Belper), Woollen Woods knitters and crocheters and numerous individuals. Patterns had been passed to family members with some people producing a hundred or more. A new creative group was started at the Baptist Church to enable them to take part in the enterprise and this group which consists of church members and non-church goers plans to continue.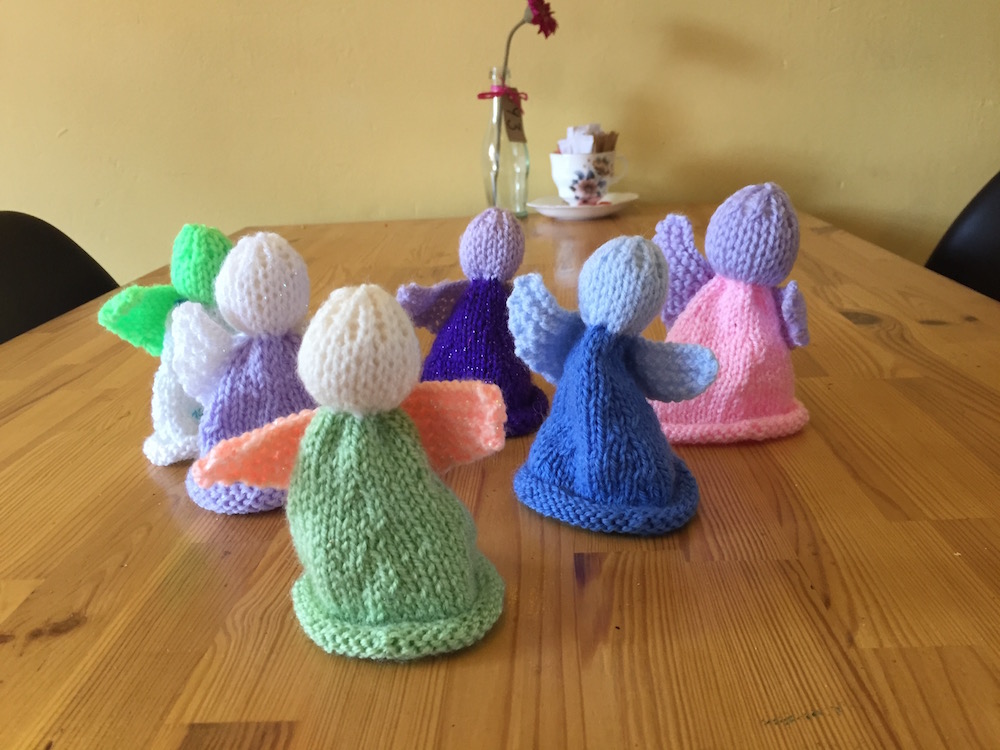 Non knitters helped with adding tags to the angels, sorting them into boxes and hanging them out in the town. It was a real community effort. Angels were collected in boxes and placed in different churches.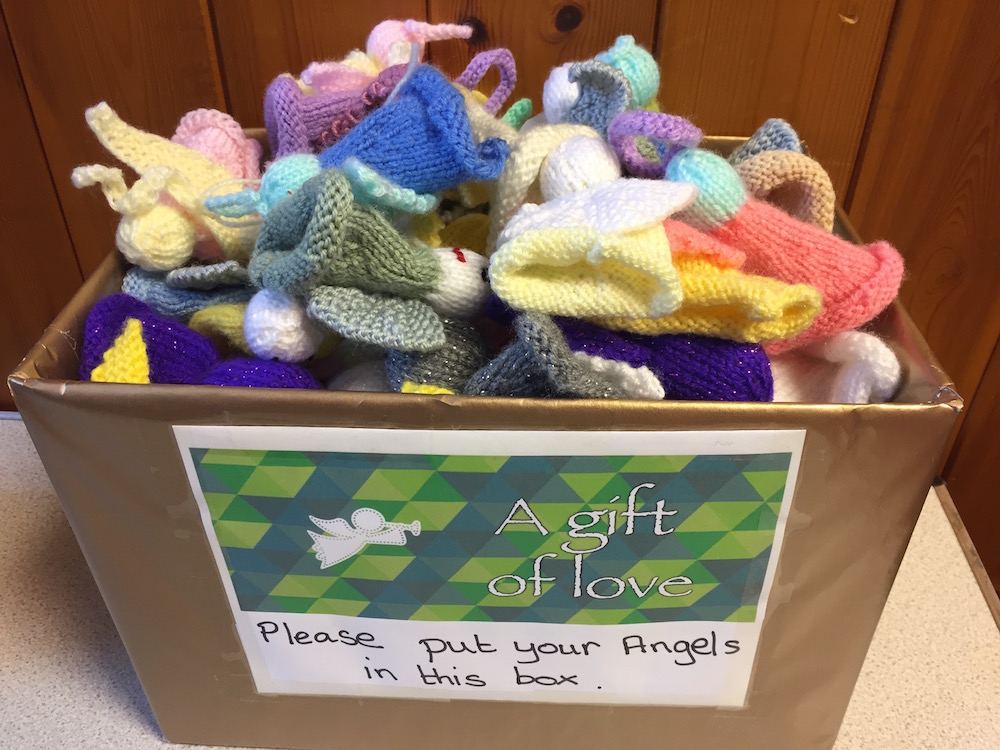 Each week more and more appeared. At the time of writing there are about 1800 angels and they are still appearing.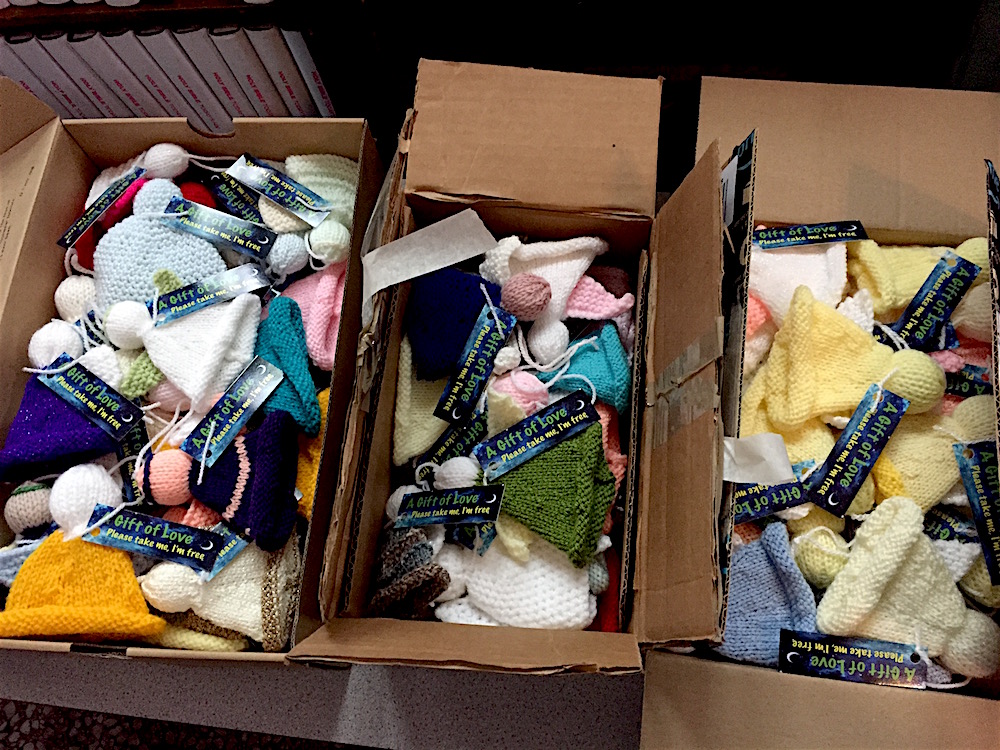 It was decided that the angels would start to appear in the town during Advent after the 4th of December. I was amazed how quickly they were taken home by people, and how much joy they gave. Gill and I went out early in the morning of December 4th and placed about 50 near the playground on Park Road and when I revisited the area at 11.00 they had all gone.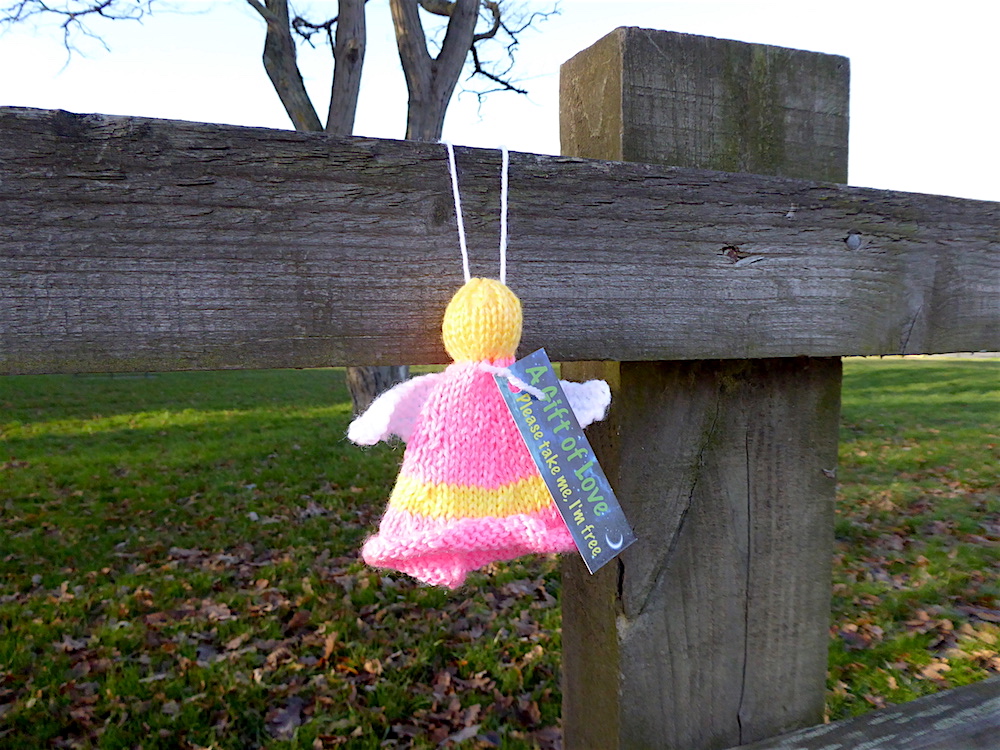 We also placed them around the Christmas Tree on the Market Square and around the Railway Station and the same thing happened. It caused quite a buzz in the town as people searched for them and people put lots of lovely comments on Facebook using the hashtag #xmasangel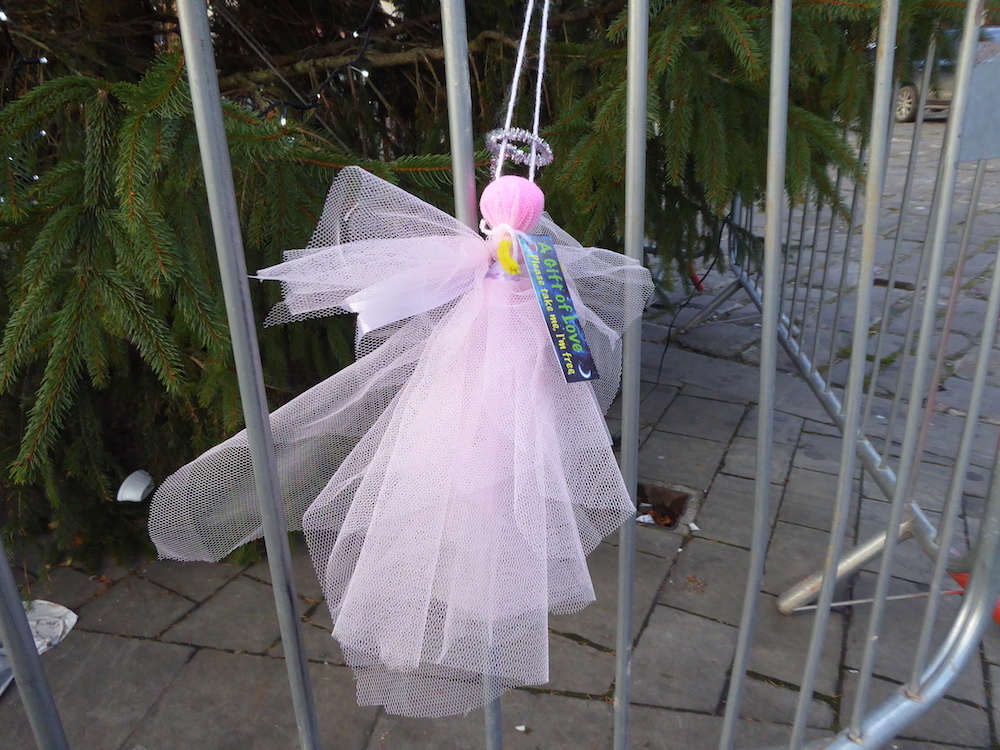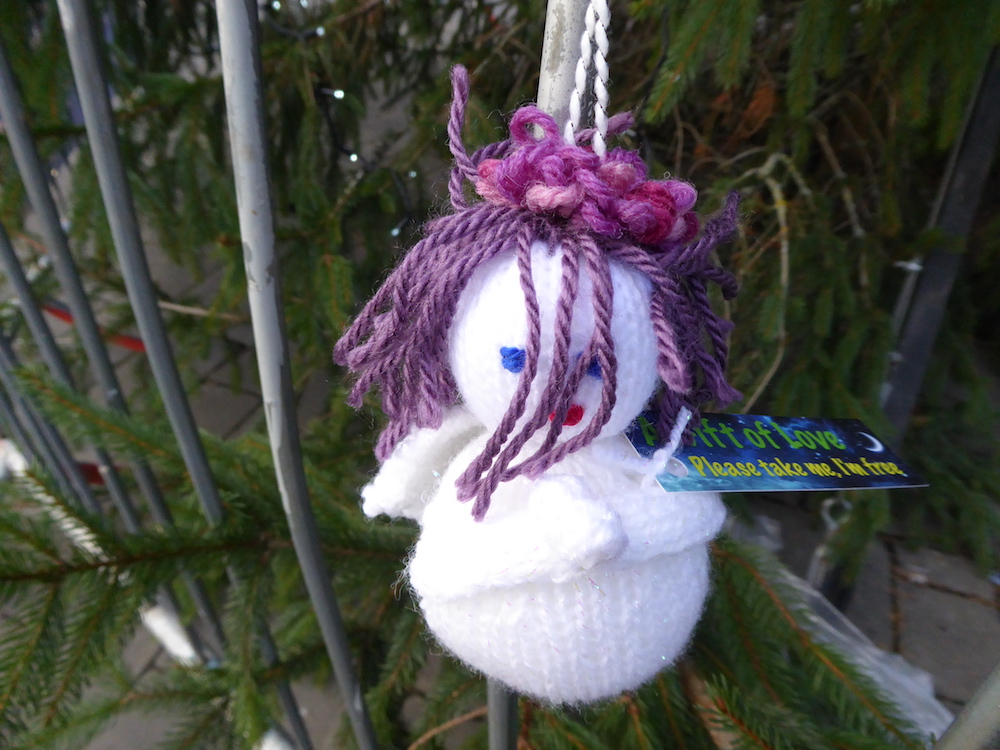 Here are just a few of the comments:-
"Loved seeing the angels fill Belper today. Brought this lovely one home to live with us. Thanks to everyone who knitted them."
"My two children managed to give 2 angels a good home today. What a beautiful idea. Thank you.x"
"Our youngest picked this one up from the library on Monday and keeps moving it around the tree, Merry Christmas."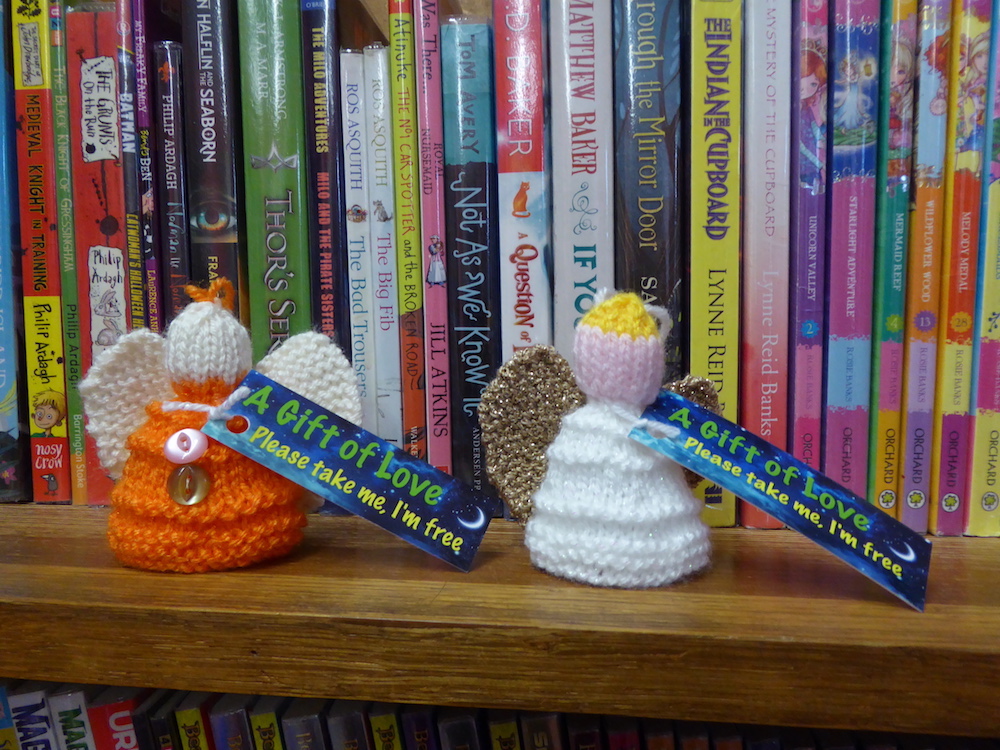 "What a wonderful idea this is. It has been magical to see them popping up around town and my boys have enjoyed spotting them. Thank you to all who have contributed."
"My Granddaughter found one in Belper Library and was very pleased to take it home. I've just been for a walk through Whitemoor park and there are lots tied to the railings. What a lovely idea."
"My three-year-old daughter found one on the walk to nursery this morning and was so happy. It's a lovely pink sparkly one that will be going on our tree. Thanks to everyone who took the time and effort to make these – it's a lovely idea and it really is spreading cheer."
"We found an angel this morning! Made my day and my little boys. Was so unexpected, but absolutely lovely. Thank you so much x"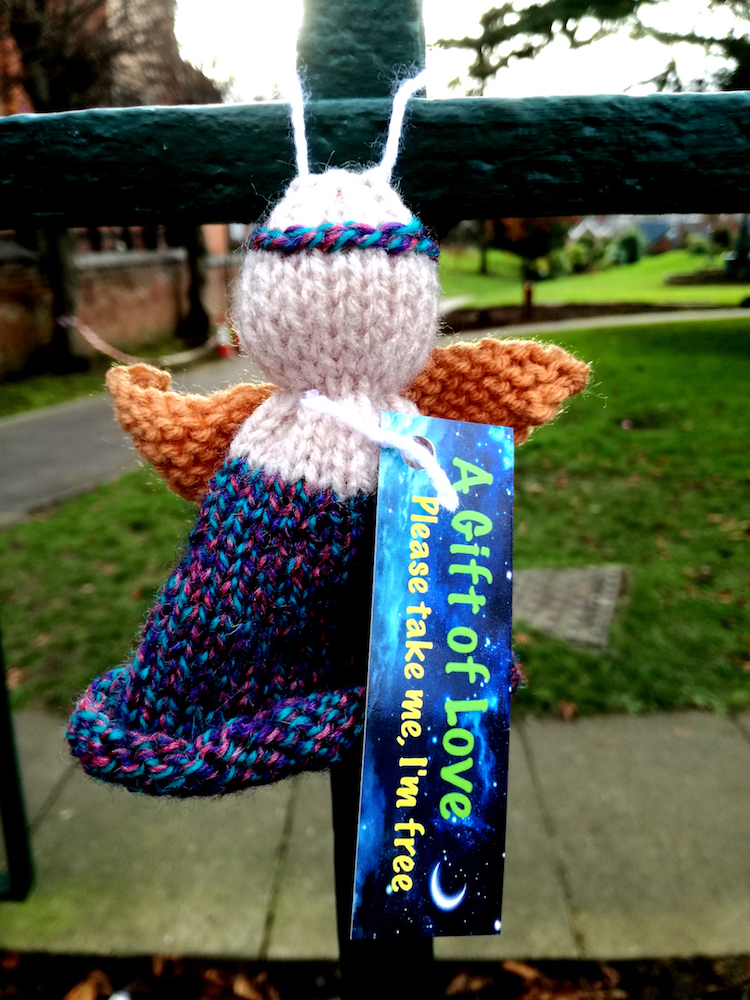 "Was at the railway station this morning and witnessed the delight from children and parents as they took one."
"Belper is a brilliant place to live."
"Thank you I am going to give this one to my terminally ill uncle"
"I am so pleased I have found this, I have looked for a Belper Rock but never found one. This has made my day."
"We found them on the bottom of Mill Lane on a tree, by 10:30 they were all gone. My little girl wanted to take hers to school today, so we'll hang it at home tonight. Thanks for making them, we loved seeing everyone finding them this morning" XX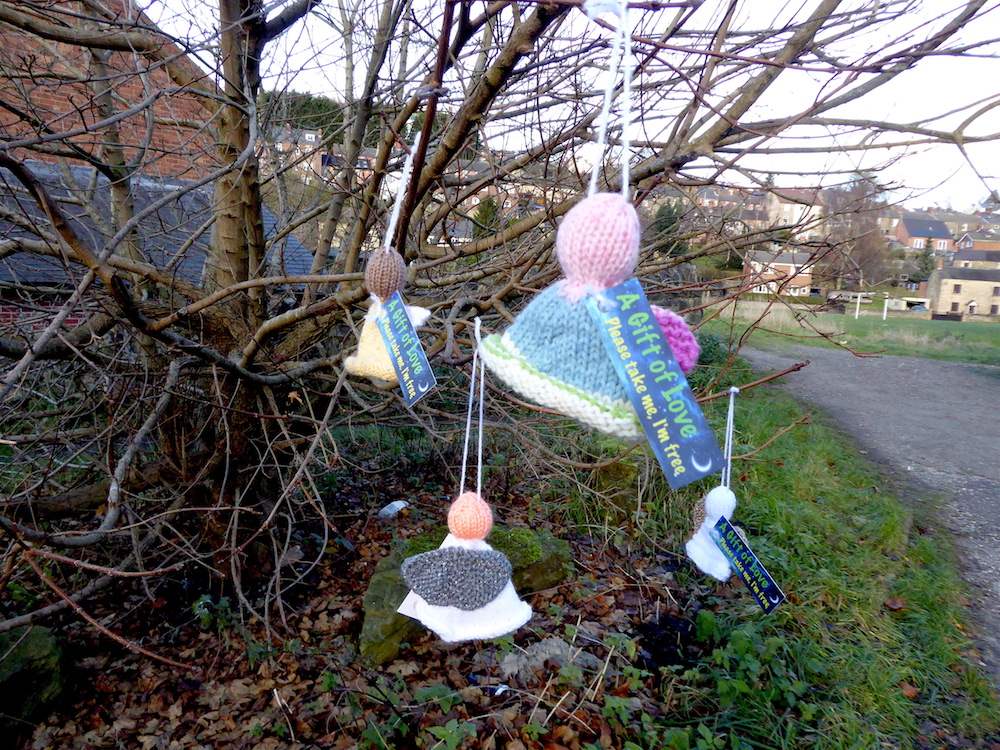 "Oh this is so lovely, well done to all involved, it was worth it"
"Wonderful idea…saw lady putting them on the bridge over the river going up to Shottle. Belper people are amazing"
"The children will love their angels – such a lovely idea, thank you very much xx"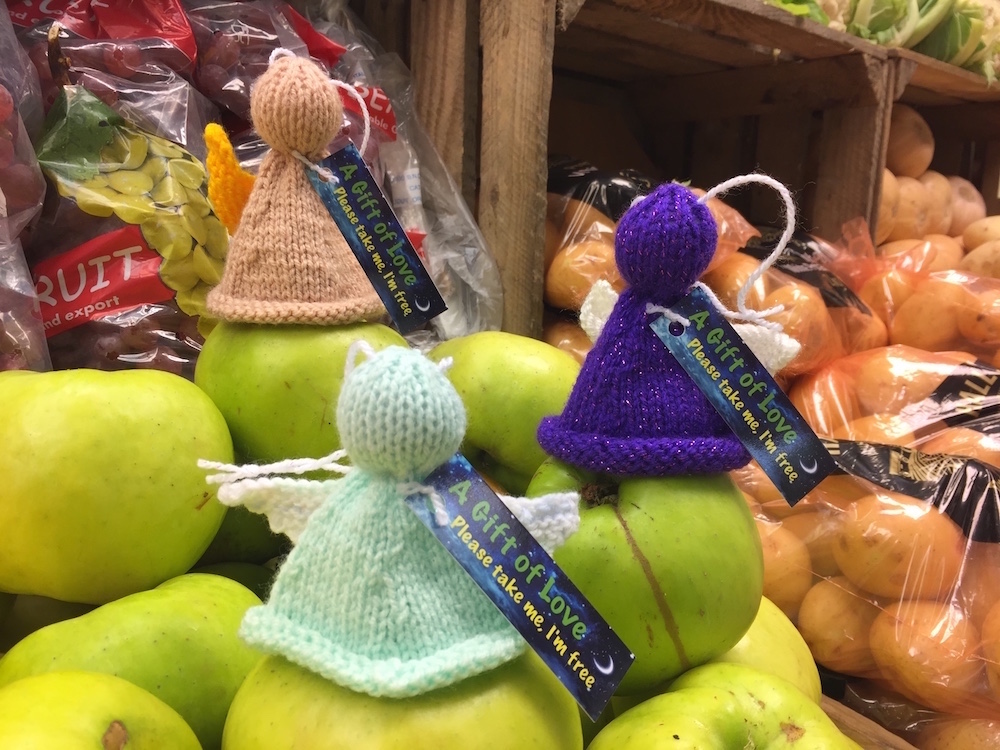 These comments give a picture of how people have felt and I would like to thank all those who made angels.
The project has given a lot of pleasure both for the makers and receivers of angels.