I visited the Yorkshire Sculpture Park near Wakefield for the first time this week. I was very impressed by the variety of exhibitions both inside and out. The Park describes itself as a 500-acre outdoor art gallery and there are over 80 sculptures to see outside. The area was originally the landscaped parkland of Bretton Hall and so the setting is very beautiful. There is much to explore including Lower and Upper Lake , Menagerie Wood, the Chapel, Boat House, Shell Grotto, various galleries and much more.
We didn't see all of it so there is plenty to go back for. Outside there is a group of figures made by Barbara Hepworth called, The Family of Man. I had been to her house and gallery in St Ives and hadn't realised that she originally came from Wakefield.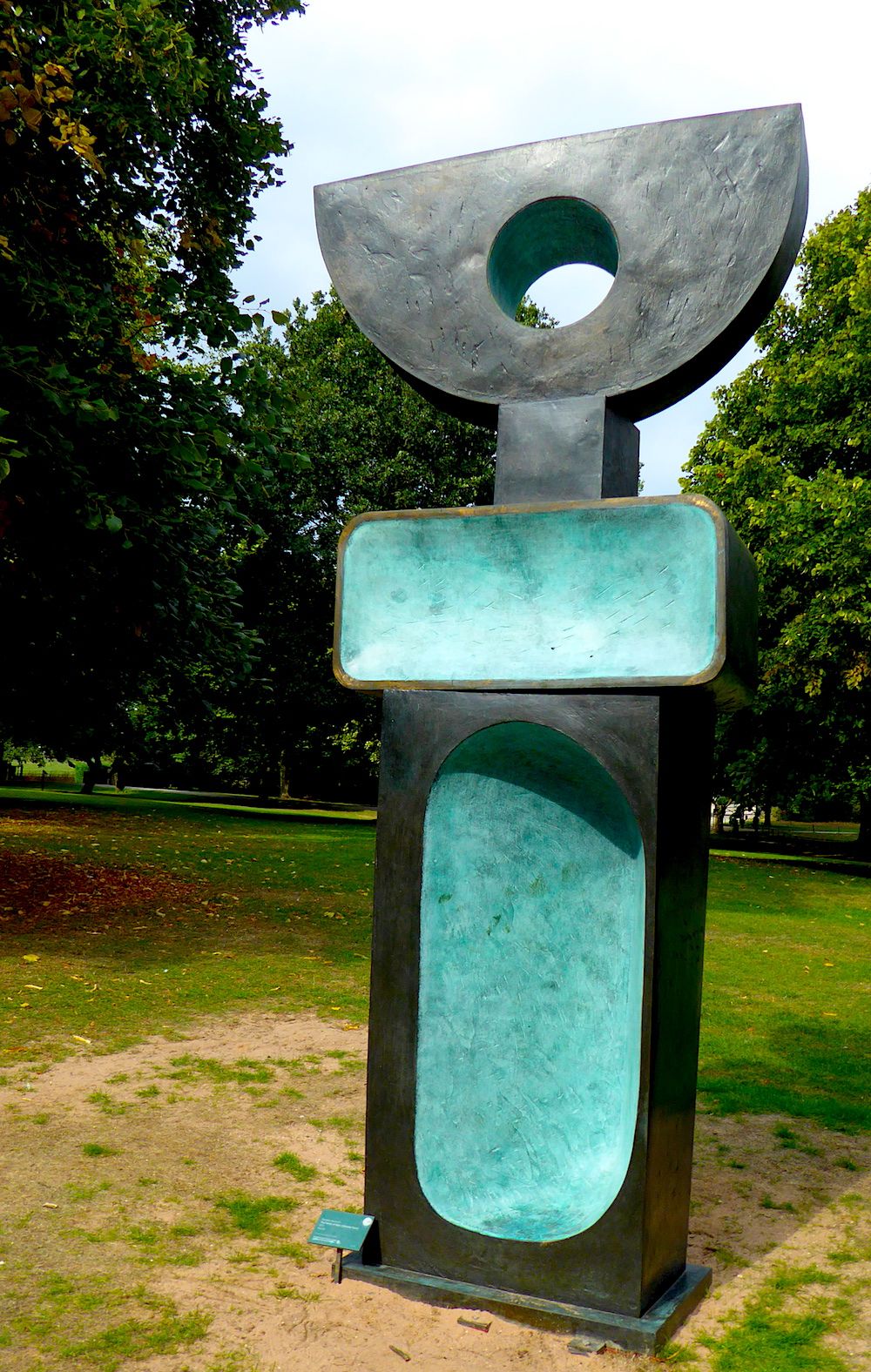 This photo is just one of the group which has been on loan to the park since the 1980s.
Another very interesting sculpture was the Iron Tree made by Chinese artist Ai Weiwei. He gained worldwide attention in 2011 when he was arrested for 'economic crimes'. His arrest provoked an international campaign for his release. He is home now but under constant surveillance and banned from leaving China. The Iron tree is made from 97 elements cast in iron from different trees joined together with nuts and screws.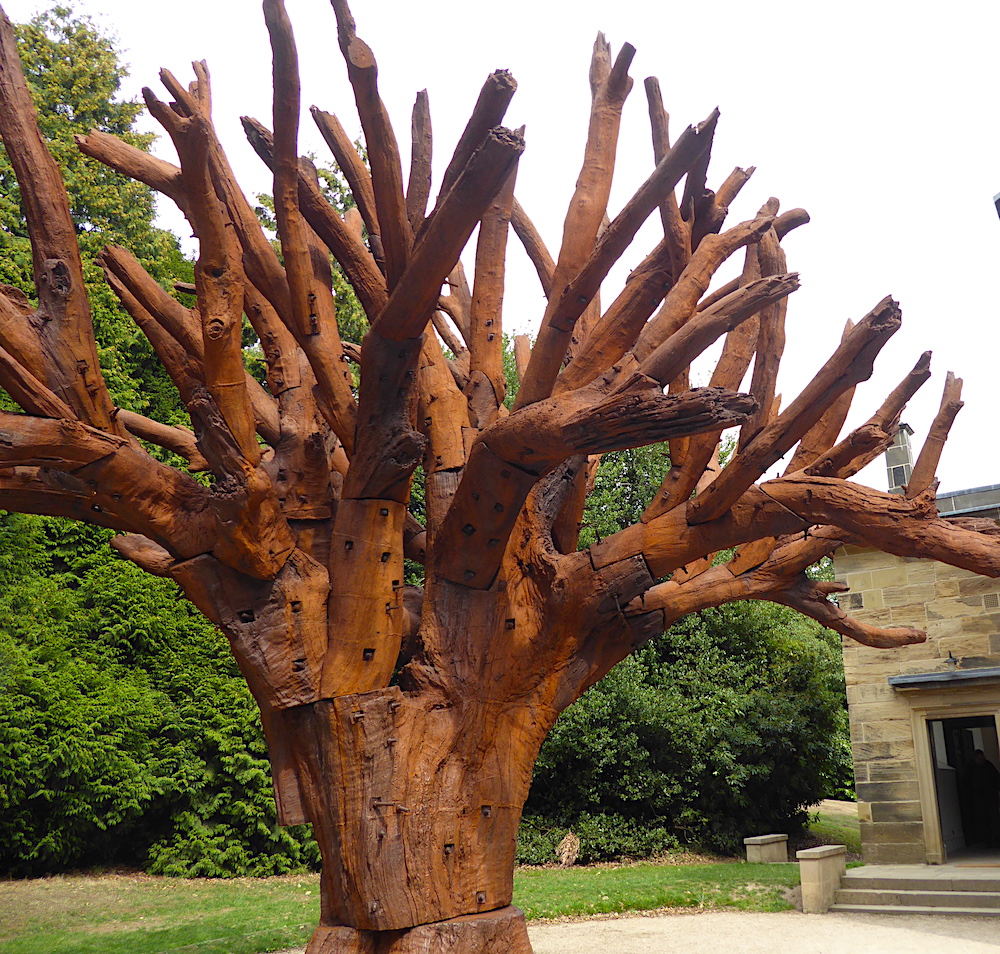 The park also includes several indoor exhibitions in different galleries. These are time limited and the one that I was very keen to look at was, The Wish Post by Mister Finch. Mister Finch is a textile artist and as he puts it, he is a man who sews. I have seen photos of his work but never seen it in the flesh and it didn't disappoint. The Wish Post is the story of a magical kingdom of woodland animals whose job it is to collect and sort other creatures' wishes. These are breathed into envelopes and posted in toadstool postboxes. Badgers in blue jackets, hedgehogs playing brass bells, long eared rabbits, rats, mice, squirrels, moles, hares and foxes all play their part in this magical amazing story. These creatures will disappear from the park on September 23rd so you must be quick to make their acquaintance.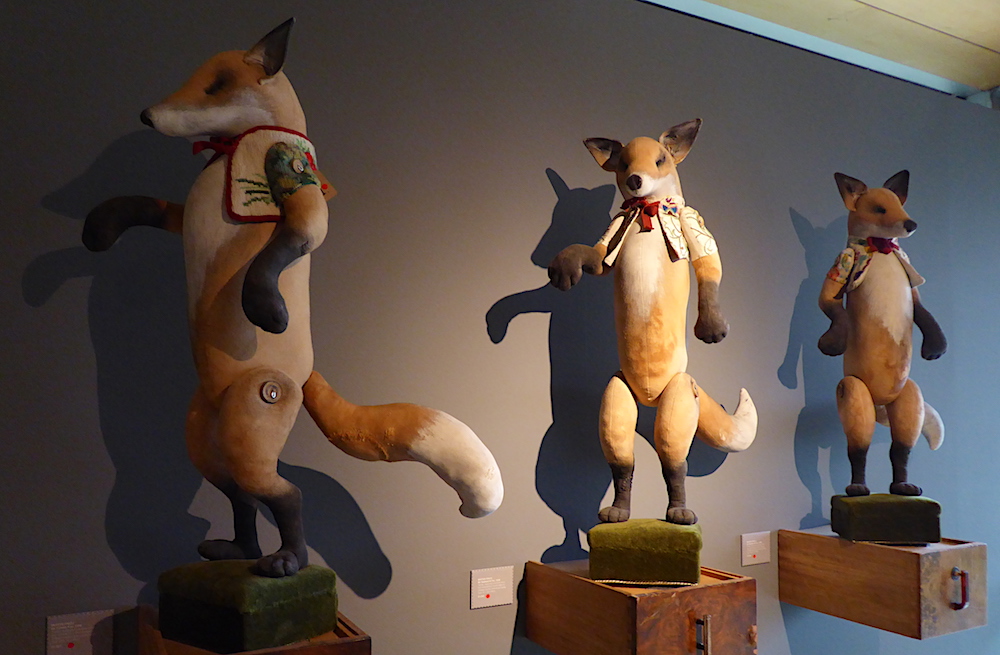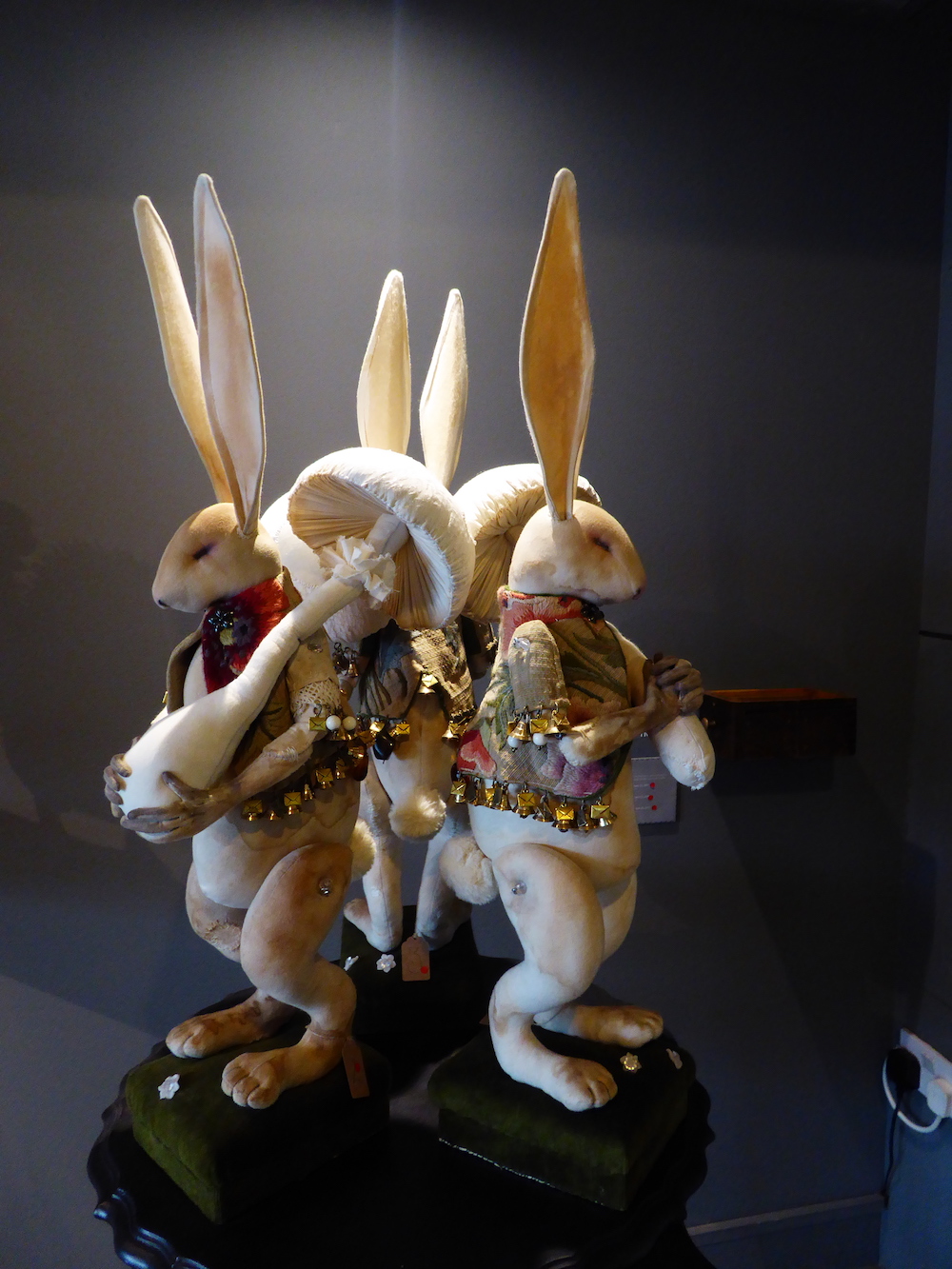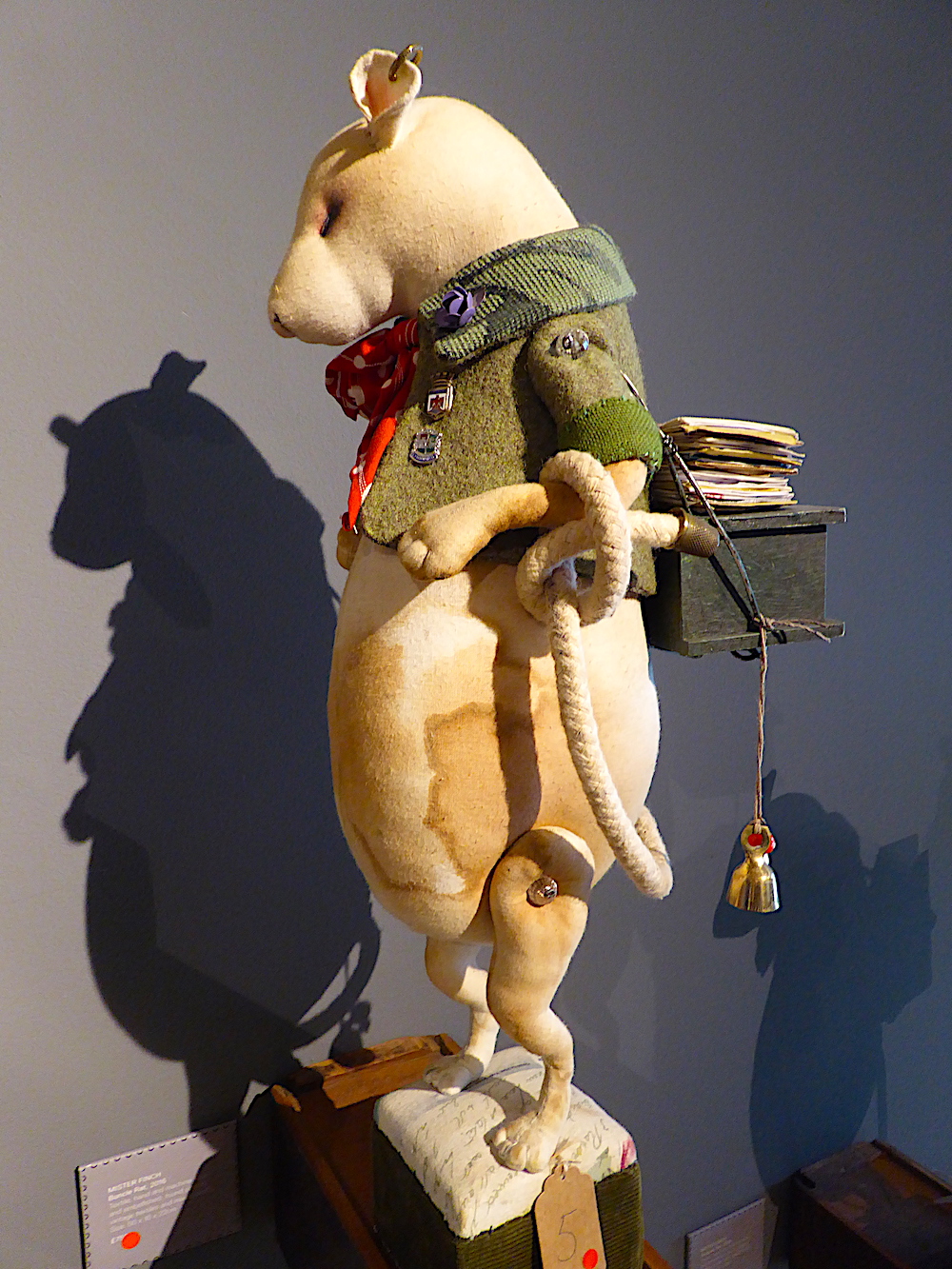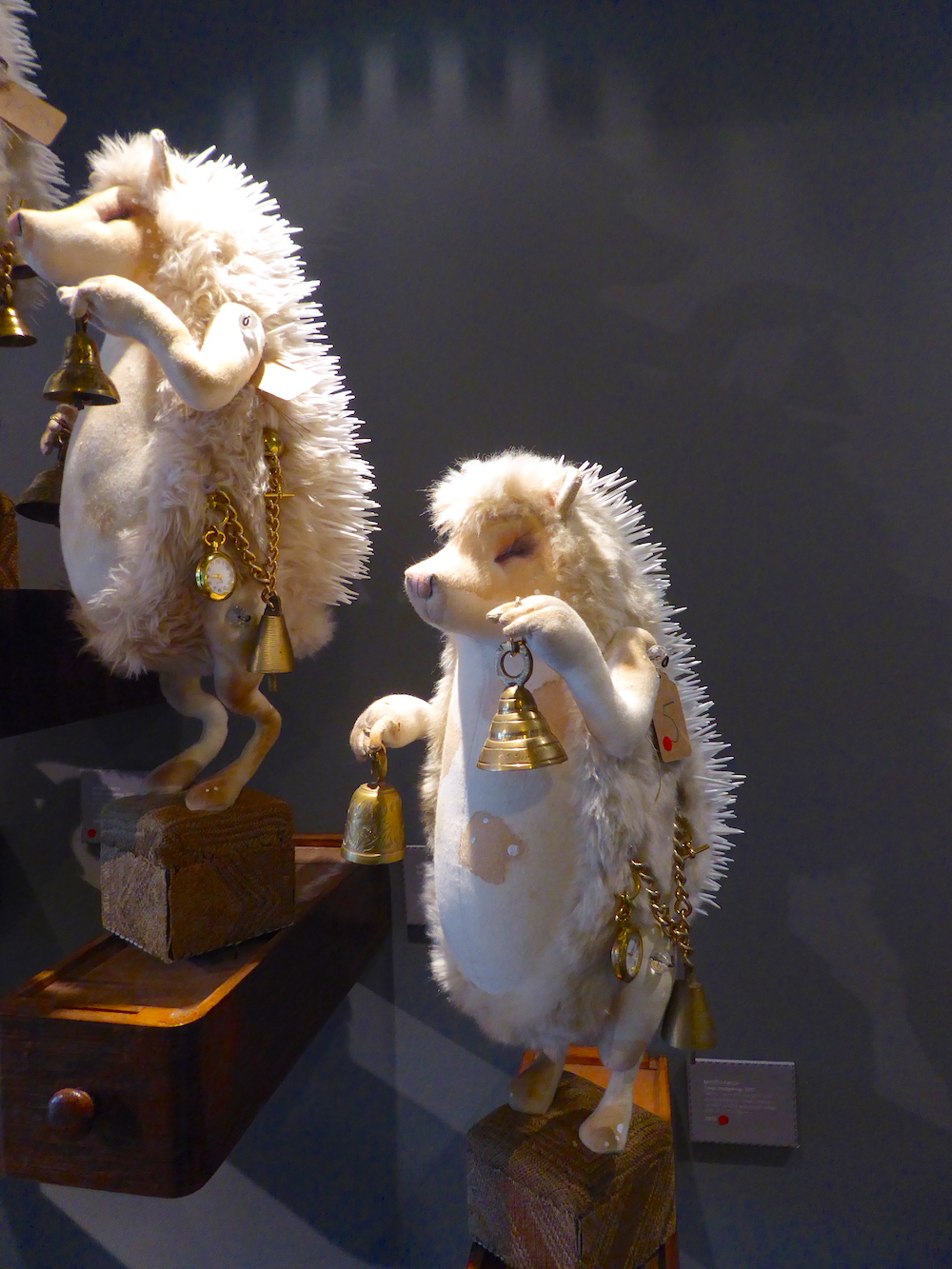 I also really enjoyed the temporary exhibition called, A Tree in the Wood by Giuseppe Penone. Part of this exhibition was outside in the form of trees with large objects in their branches. At first I thought that these large pieces such as a box shape had been hoisted into the branches and wondered how safe they would be in a wind. It turned out however that the really realistic looking trees were actually made of bronze.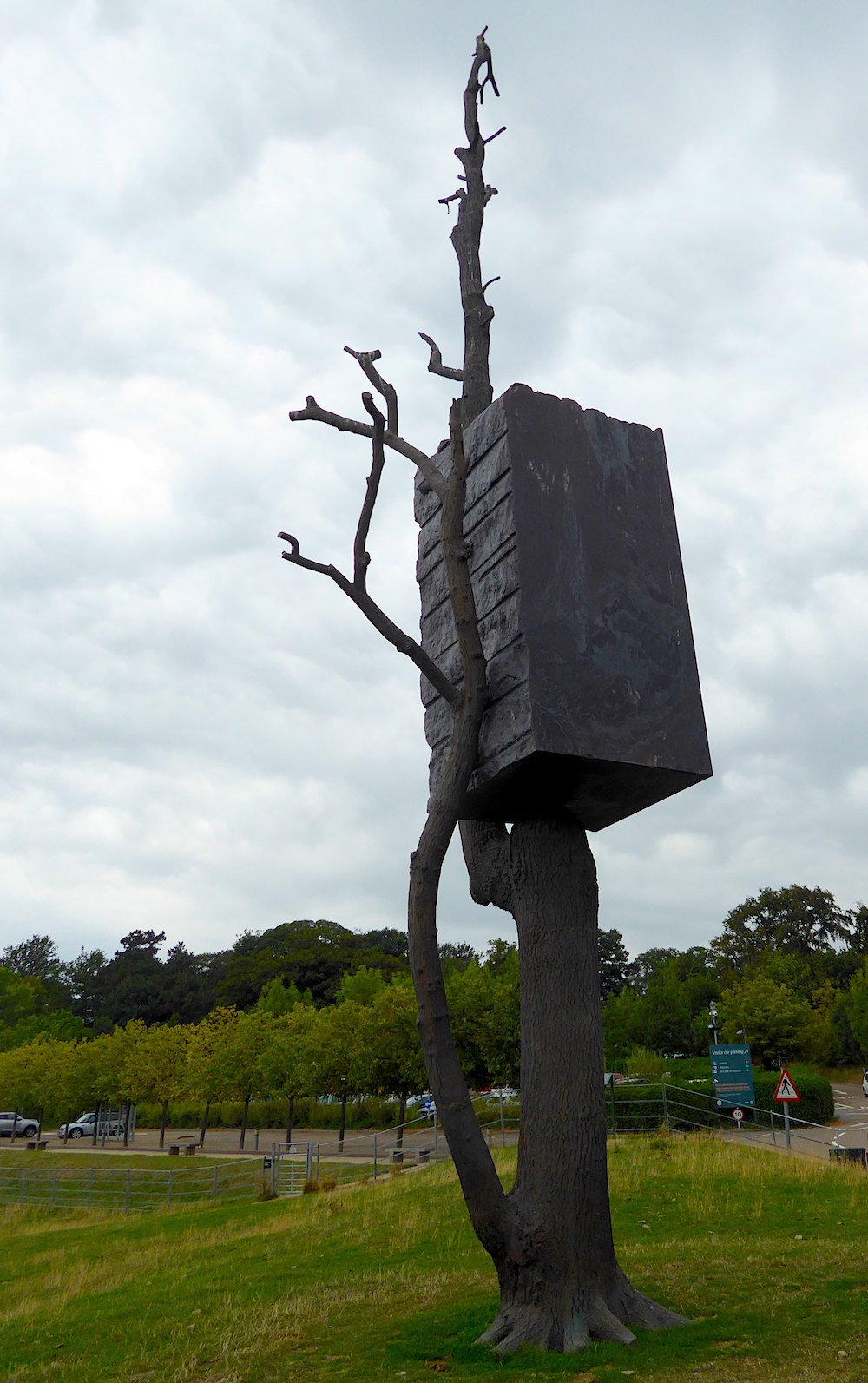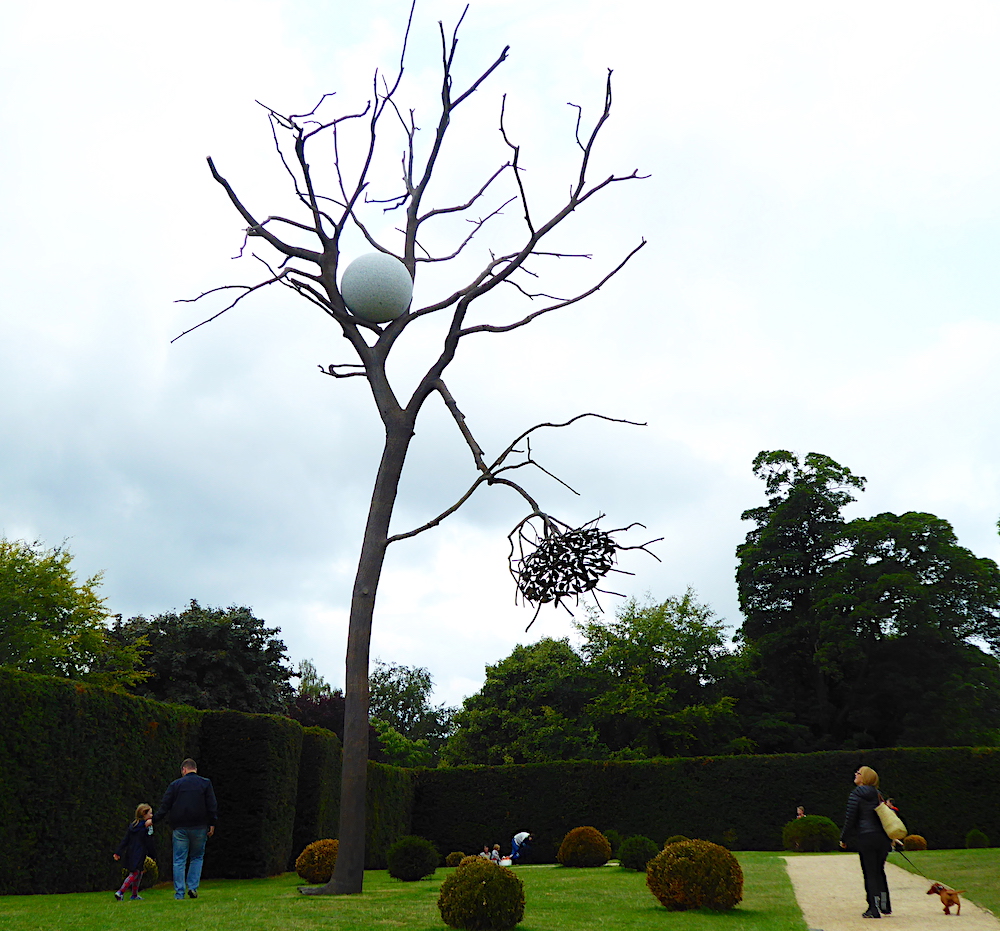 I loved the metal tree outside the Bothy Gallery, it is a bronze sculpture of a split tree with gold leaf reflecting the light.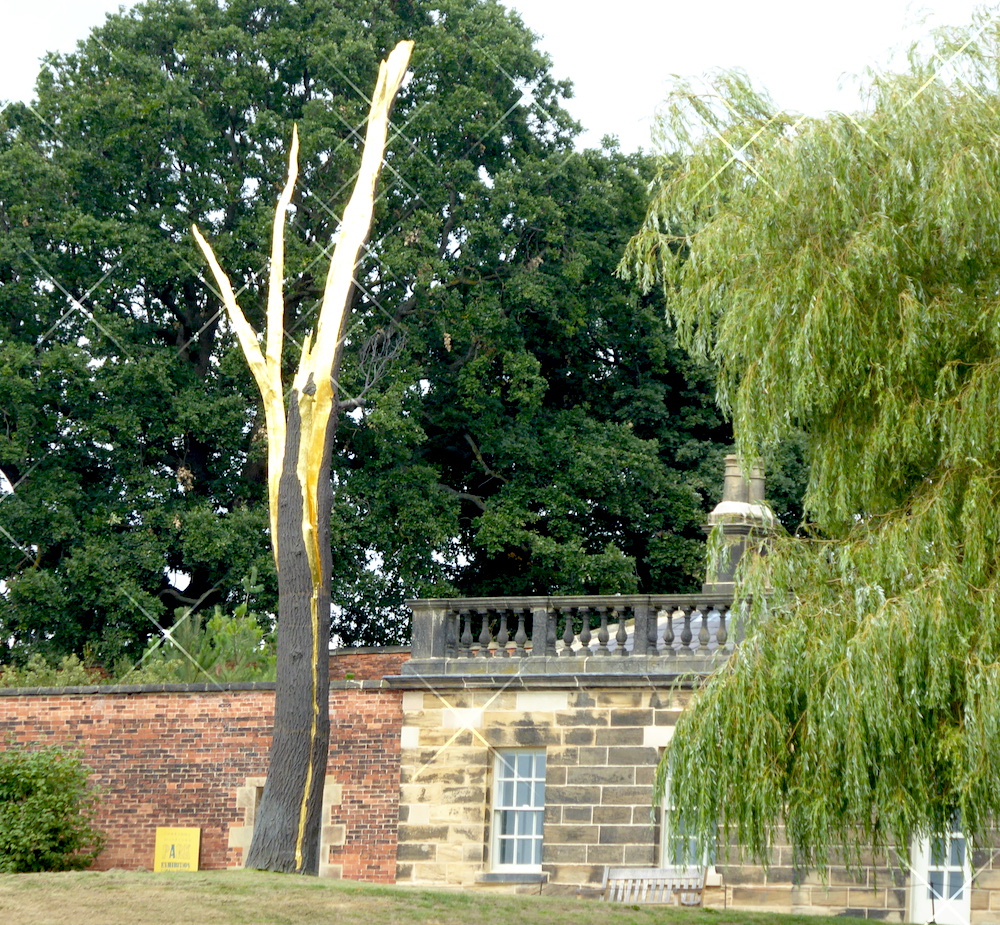 Inside the Underground Gallery is a force of nature, called Matrice. It is a fifteen metre conifer which has been spliced vertically in half and laid tip to tip to measure thirty metres . The tree had been cut down in the Alps and the centre hollowed out.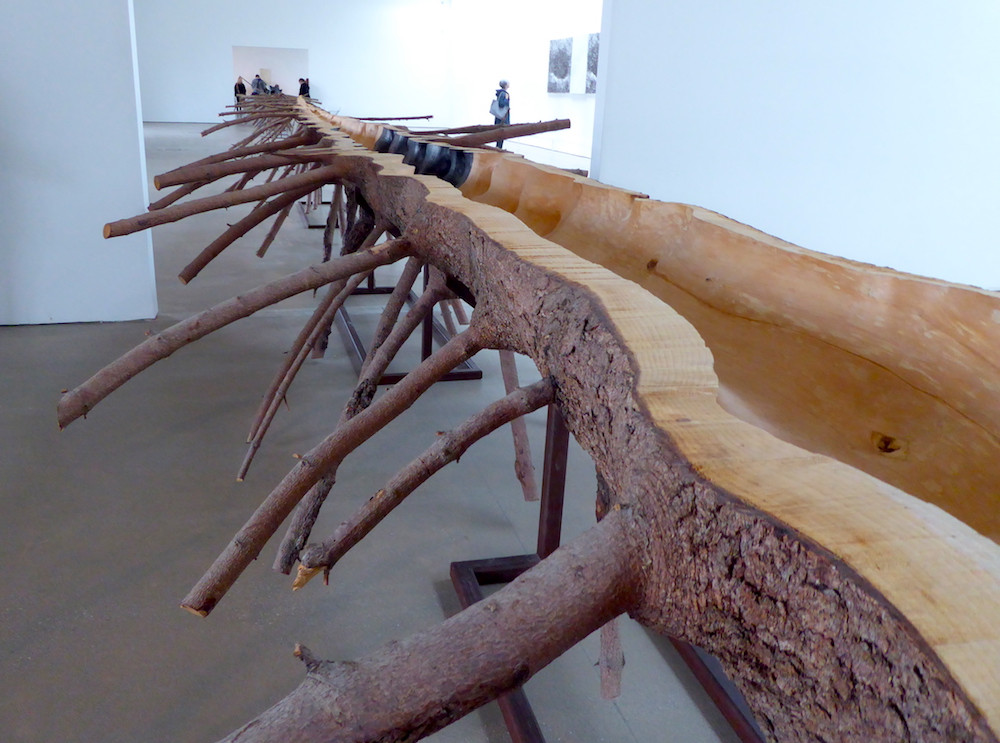 I was also very interested in the exhibition called, Beyond Time by Chiharu Shiota , a Japanese installation artist. This was inside the refurbished 18th-century Chapel.  It has been made with 2,000 balls of woollen thread, with pieces of sheet music suspended from the thread.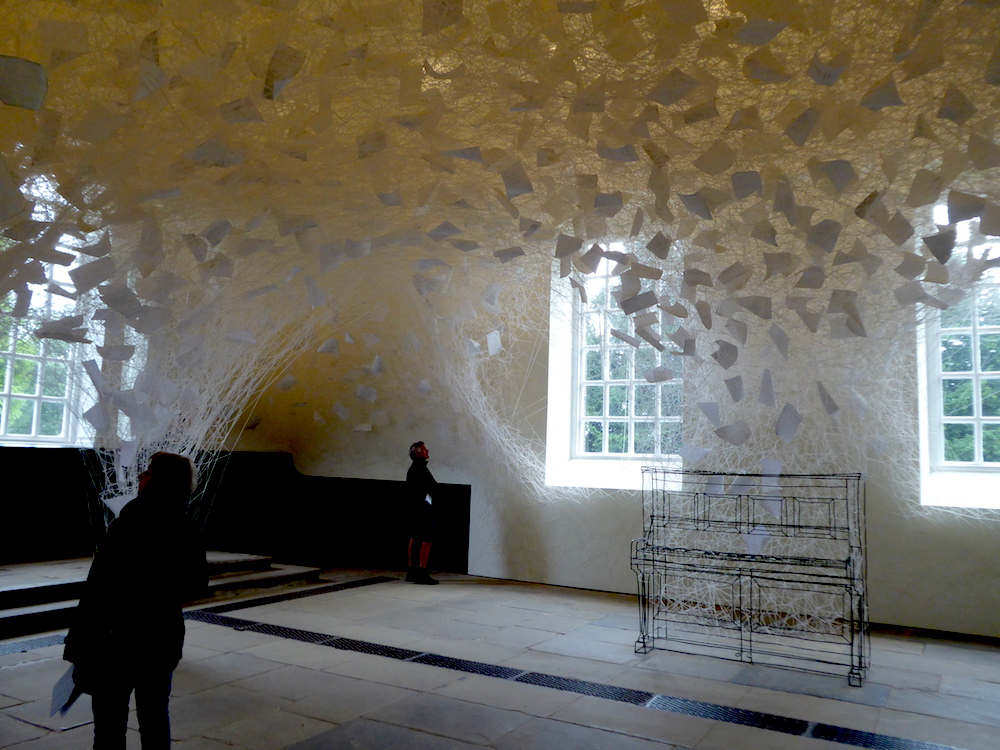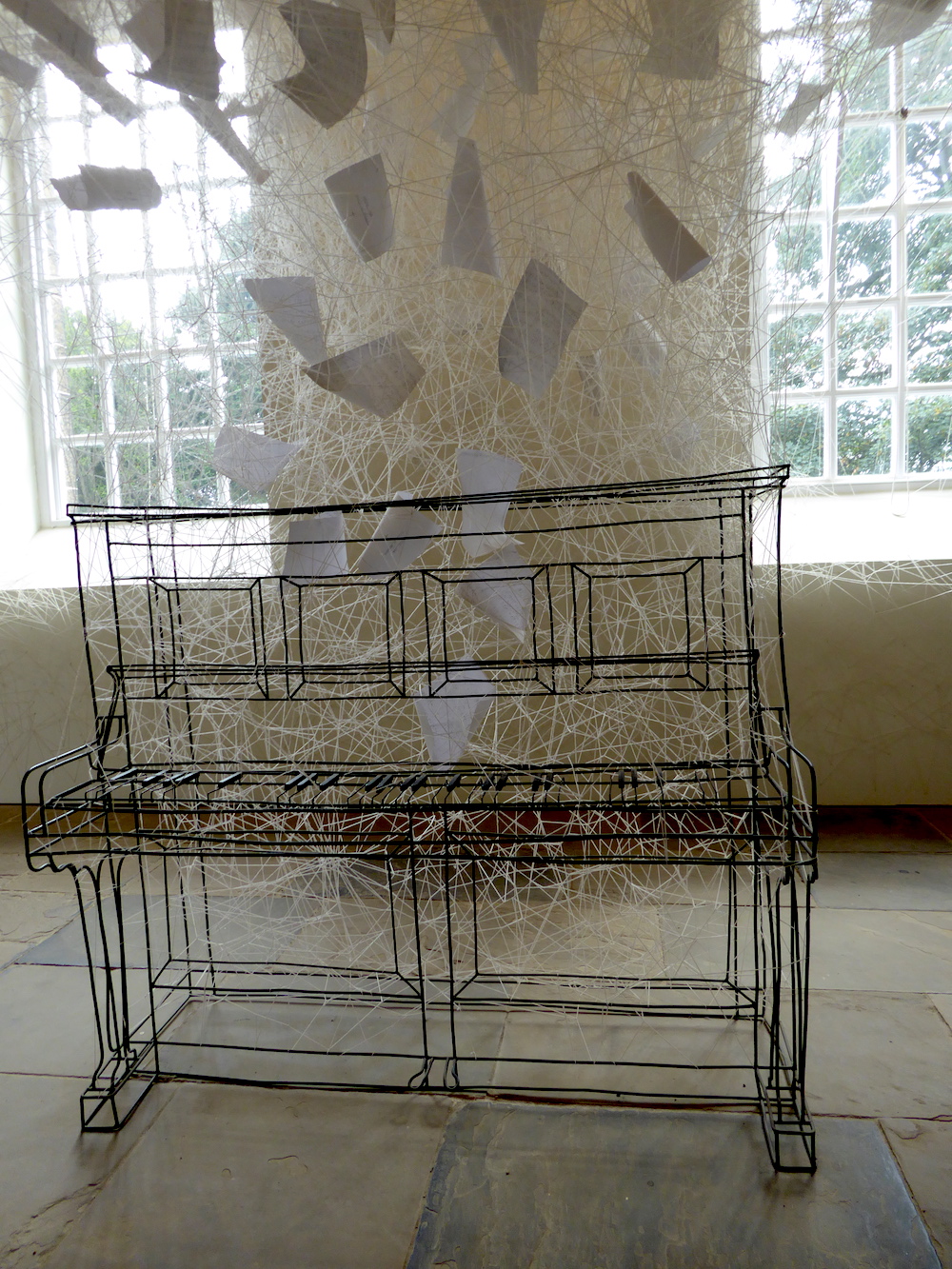 Unfortunately this instalation is only there  until September 2nd.
I enjoyed my visit but am very aware there is still lots that I didn't see so look forward to a return visit.